This is a simple yet delicious payasam. It is made on festive occassions and devoured at home. My mother-in-law makes yummilicious payasam. On our trip to India hesarubele payasa, shavige chitranna, menthe menasu gojju of her is a must have for us :-) ..Here is her way of doing hesarubele payasa ..
You need the following :
Hesarubele/Dhuli moong dal/split mung beans without skin (scrol down to see the pic of dal) - 1cup
Jaggery
Mung beans : Jaggery Ratio 1:1 if you want it to be absolutely sweet..or else 1:1/2 works fine (this is what i do)
Cardamom powder : 1/2tsp
Ghee for frying dry fruits like raisins and cashews ..if you are using it
Coconut : 1/2 cup (use the same cup for measuring dal, jaggery and coconut)
Milk : 1 - 2 cups
1. Fry/Roast Hesarubele/Dhuli moong dal/split mung beans without skin with little ghee till they turn golden brown and a nice aroma emanates; here is how it looks after you fry them.
Do not wash dal before you fry it. You can wash after frying it.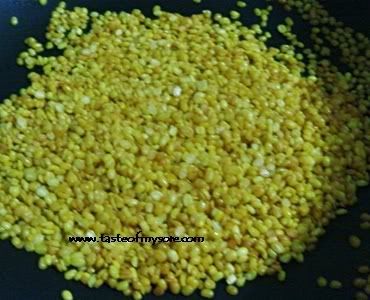 2. Add sufficiant water (1 cup dal:1.5 cups water) and pressure cook or cook it over stove top till they are completely cooked and still retains their shape. Pressure cooking dal will make them mushy.
3. Grind coconut and jaggery with cardamom powder to a fine paste.
4. Add this paste to cooked dal. Add more water/milk to make it little watery and let it boil for 2-3 mins.
5. Keep stirring or else payasam might stick to the bottom.
6. Add fried dried fruits and garnish. Serve hot.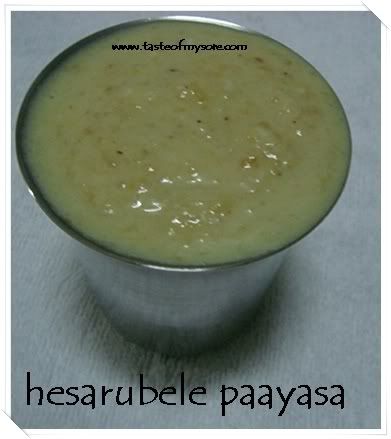 This lota of payasam goes to Priti and Purva (would love to call them Psquare) for their theme based
Festive Food event
and this month's theme is 'Rakhshabandhan'
Also this goes to Sheetal of My-Kitchen for her
SWC-Karnataka
Event