Juice drinking in combination is what I learned during my stay in Singapore. People here drink them in different combination for various reasons..like adding celery to the juice reduces cholesterol, adding star fruit provides loads of VitaminC, Apple and Orange keeps your skin young, Carrot and Apple boosts energy, etc etc the information was overwhelming but interesting! Different people have different versions, so I found few pages which may actually help you know the benefits of drinking juice you can read them
here
,
and here
Do not keep these combination juices refrigerated, make them fresh and drink it..this is what I learned from my fellow colleagues and why not?... drinking fresh juice always has more benefit than drinking stored ones.
You need :
Apple : 1 (wahed, deseeded and chopped)
Orange: 2 (peeled and chopped)
Starfruit: 1(ripe starfruit which is orange in color, wash, deseed and chop)
Blend everything in a juicer, if you feel that it is too sour you can add 3tsp of sugar to make it drinkable. No filtration required. Just drink it! :)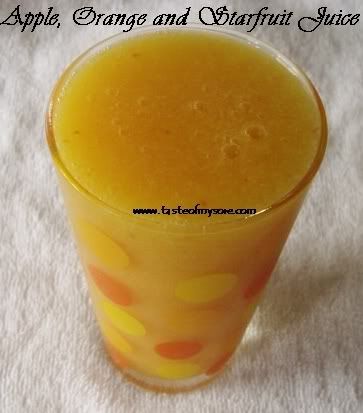 You can also see
Mix Veg and Fruit Juice with Rose Tea
on Cooking Station.