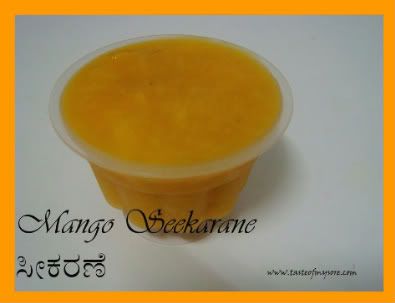 Yipeee....Mango season is back! With the first rain before ugadi, we are all set to eat those yummy, juicy, tasty mangoes in all avtars. Tangy ones in rice, sour ones in pickle, sweet n ripe ones in dips..it is all Mango at home.
All you need is
Mangoes (fully ripe) : 4
Sugar as per taste if mangoes are not sweet (which does not happen most of the times)
Cardamom powder : 1/2tsp
Bananas: 2 (cut into small pieces)
1.Wash mangoes nicely. Peel the skin with your hands. Soak the skin in water, do not throw them. Repeat the same with all mangoes.
2.Take the fruit in a large pan and hand squeeze all these fruits. break down larger lumps if there are any.
3. If the seed has any fruit adhered to it, soak them along with those mango skin. Now squeeze all the juice from skin and seed using your hands. Do not apply more pressure while doing this. Add the juice obtained from squeezing the skin and seed to mango pulp.
4.Mix rest of the ingrediants with the mango juice. Chill and serve with hot holige/puran poli
Other related posts :
Biliholige/white puranpoli
Holige Saru
This post goes to
Live StrongWith a TasteofYellow
event hosted by Winos and Foodies blog.
LIVE
STRONG
Day is the Lance Armstrong Foundation's one-day initiative to raise awareness and funds for the cancer fight.
LIVESTRONG Day
2008 will occur on Tuesday, May 13. When cancer affects your loved ones, it hits home. So fight cancer from your own backyard. Thanks for hosting the event Winos and Foodies.