A much awaited post for few of us on the Singapore Women's Group. I could see 4 entries including mine, which is not bad for a start. Enjoy Kashmiri Roti, Kashmiri Kofta and Phirni for your weekend lunch with the mouth watering tried n tested recipes.
Here you go :
Priyanka
has contributed Phirni
You can read the recipe for making Phirni
here
She also has couple of other mouthwatering dishes so check her out at
ASAN KHANA
Vanisri
from illatharasi has contributed Phirni, do check her blog for mouth watering veg and non-veg dishes.
Hemali Doshi Kothari,
tigress of our Women's Club who is ever enthusiastic with strong determination decided to make something special for the event. She has gladly contributed Kashmiri Kofta Curry.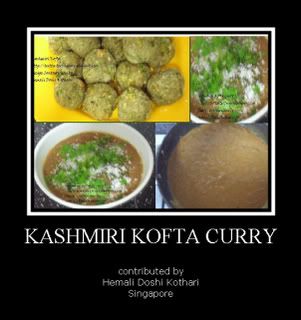 You can read her recipe here :
Kashmiri Kofta
Ingredients
For Koftas:
Pototoes - 2-3 medium size
Green Peas - 1/2 cup
Grated coconut - 1/2 cup
Corrainder leaves - 1/2 cup finely chopped
Chilli Paste - 4-5 tsp
Garam Masala - 1-2 tsp
Grounded Cashewnuts - 1/2 cup
Cornflour
Salt to taste
Oil for frying
For Gravy :
Tomatoes - 4-5 medium size, make it into puree
Onion - 2 medium size finely chooped
Ground Cashewnuts - 1/2 cup
Cornflour - 2 tsp
Fresh curd - 1/2 cup
Garam Masala pwdr - 4 tsp
Bay Leaf - 1
Cardamom pod - 1
Cloves - 2
Cinnamon
Salt to taste

Method
For Koftas :

Boil the potatoes alongwith green peas. Mash it. Add grated coconut, chopped corrainder leaves, cashnetnuts, chilli paste. garam masala and salt. Mix the enitre portion well. Make it into small balls.
Put some oil in a pan. Roll those balls on corn flour and fry it till golden brown. Take it in a plate n put it aside.

For Gravy :
Take about 2-3 spoons of oil in a pan.Add bay leaf, cardamom, cloves n cinnamon to it. Then add chopped onions and fry it till golden brown. Now add tomato puree, garam masala powder and salt. Cook it for around 2 mins. Add curd, cornflour and ground cashewnuts.Cook it for abt 1 minute. Mix well. Make the gravy thick.
Serving :
Heat the gravy till luke warm. Add koftas to the gravy. Garnish it with grated coconut and corrainder leaves. Have it with Naan/Paratha.
Last but not least is my own entry
. I had made Kashmiri Roti. The mixture of spices which was added to the dough made rotis flavorfull and they tasted good. Do remember to leave the dough for 30 mins before you roll them to make Rotis. Recipe was taken from Tarla Dalal website. You can read my earlier post
here
I also blog at
Taste of Mysore
, do check it out for Karnataka style recipes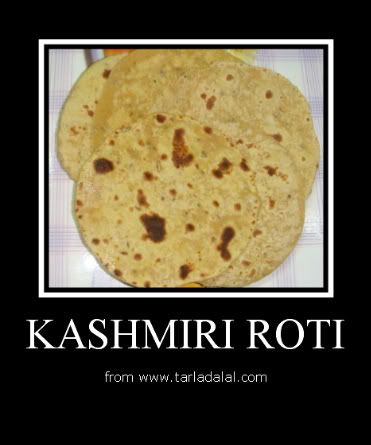 Next month theme would be
PUNJAB.
Fold your sleeves, look around for Punjabi recipes, cook click and send it to me at vasurag1993@yahoo.com.sg Good Luck Ladies!
Now all of us are winners because we have invested equal amount of enthusiasm, work and made sure that the final dish is superb. Viewers, your coments are valuable to us, so please leave them in our coment section.
A round of applause for all the participated ladies from my side.