I would like to thank all Singapore Women's Club Members (SWC) and International food bloggers for participating in this event.
Below write-up is contributed by Roop Parmar :
Punjab- "the land of five rivers". being the most fertile land agriculture is the backbone of this state. Needless to say that best produce results is rich and yummy food. Punjab is also known as the "granary of india" or the bread basket of india. It produces approx 70% of d food grains for India. Punjabis are big hearted people, they like to live life king size...they are very brave, lively, full of enthusiasm(balle balle kinds) and high spirited.Punjab is home for mouth watering `curries, tandoori tikkas, kababs, roshan goshts, machili (fish) dishes and much more. Curries can be made as dry or gravy preparation. Dry curries like kababs, tikkas etc. may be served as starters or main dish.

For die-hard vegetarians Punjab is a heaven. India can boast for its innumerable varieties of tasty and nutritious vegetarian dishes. Punjabi dishes like Sarso ka Saag, Makki di Roti, Rajma, Aloo Mattar etc.

Some of the popular Punjabi starters include:
Samosas
Tandoori Chicken
Tandoori Fish
Paneer tikka
Paneer Pakora
Vegetable Pakoras

Lassi is a traditional Punjabi beverage made out of churned yogurt. It can be made sweet or salty as per your taste.

Hallmarks of Punjabi food

Saron (sarson) da saag te makki di roti
Dal makhani (Mah di dal)
Butter chicken
Paneer Makhani
Lobiya (Black eyed bean)
Rajma (Red kidney bean)
Choley (eaten with bhatoora or naan).(Whole Bengal gram e.g Bengal chickpeas)
Punj ratani dal (mixtures of 5 lentils) etc...

Bread preparations
The Punjabi breads are generally flat breads; only a few varieties are raised breads. The breads may be made of different types of flour and can be made in various ways:

Baked in the tandoor like naan, tandoori roti, kulcha, lachha paratha
(The tandoor also allows for tasty chicken and meat preparations including seekh kebab, tandoori chicken, reshmi tikka and malai tikka.)

Dry baked on the tava (Indian griddle) like phulka or chapati, jowar ki roti, baajre ki roti and the very famous makke ki roti (these are also smeared with ghee or white butter)
Shallow fried like paratha, aloo or mooli paratha
Deep fried like puri and bhatoora (a fermented dough)

These breads can be made by just about everyone, however it is often said that it is only made the best with Punjabi hands.Dollops of cream and butter provide for the rich finishing touch. Garnishing is usually with shredded coriander leaves and juliennes of ginger.

Yummy Punjabi desserts include:
hot gulab jamuns
gajar halwa loaded wid dry fruits
garma garam juicy jalebi

It is time to showcase our entries :

Priyanka has contributed a wide array of recipes which includes Vegetarian Punjabi Dishes and Non-Vegetarian Punjabi Dishes. Do visit her at AsanKhana to know asan(easy) ways to make a lovely lunch and dinner :

Her Entries : Pindi Chole :

2.
Dhabawale Kaleji Fry
3. Dahi Wada

4. Dhaba style besan ki roti and Chicken burji

5. Lahsuni Murg and Jla bhuna egg masala

7. Rabri

Jasneet has fondly made Lobia (black eyed bean) Parantha:
Jasneet Oberoi's Recipe for Lobia(raungi) Parantha :
Lobhia Paratha has a spiced lobhia stuffing. I personally prefer it to aloo or potato stuffed parathas. Freshly cooked and crisp parathas are served straight off the griddle. They should be served with pickles of your choice, natural yogurt and/or Sweet Lassi or Salted Lassi. In our family we make them on the occasion of Diwali and everyone likes to eat them with sweet Mango Chutney as well. These parathas freeze well; a large batch can be made and kept in freezer.
Ingredients
For Stuffing
200 gms black-eyed beans
1 onion (finely chopped)
½ tsp. ajwain or carom seeds
A large pinch of heeng
2-3 green chillies (to taste)
1 tsp. chilli powder (to taste)
3 tsp. coriander powder
1 tsp. garam masala
1 tsp. jeera or cumin powder
4 tsp. salt
3 tsp. amchoor or dry mango powder
Remember that the stuffing is for filling between two layers of unsalted dough. Therefore, the stuffing at this stage will taste quite salty and over spiced.
For Dough
400 gms whole wheat chapatti flour
2 tsp ghee or butter or oil (this helps to make Paratha crisp but is not essential)
Enough water to make dough
Instructions
1. For stuffing
2. Boil the Lobhia in pressure cooker with less water eg. if the lobhia is 1 cup just add 2 cups of water. It should be over-boiled and sticky. Drain the water after boling.
3. Take a bowl and add the boiled lobhia and mash them. Add finely chopped onion. Add all the spices and mix well.
4. For dough
5. Save 1-2 tablespoon (or use extra) dry flour for dusting during rolling out of parathas
6. Mix the remaining flour, oil or ghee and enough water to make a firm-ish dough. If you are new at making parathas, it is better to have a firm dough because it is easier to control while rolling out. Experienced Indian cooks prefer a little softer dough, which make softer parathas.
7. Knead well for 5-6 minutes. This process can be done quickly in a food processor.
8. Leave to stand for 10 minutes or so. Knead briefly again.
9. Making parathas
10. Break dough into approximately golf ball size portions and roll into balls, using a little dry flour for dusting. I make only two balls at a time and make the next 2 while the previous paratha is cooking. If you are new at this, you may need an assistant to fry parathas while you are rolling them out.
11. Heat a griddle or tawa.
12. Dip one ball at a time into the dry flour and roll it out to approximately 6 inches or 15 cm.
13. Place 2 heaped tbs. or so of the stuffing in the centre of the 1st circle, and place the second circle to cover it.
14. Seal by pressing all around the edges. You end up with a small, stuffed circle.
15. Roll the stuffed circle gently into a pancake like bigger circle, approximately 20-22 cm diameter. You will need to dip it in dry flour, on both sides, a couple of time during rolling out. This will stop it from sticking to the rolling board. If a little stuffing escapes, don't worry, just remove it. If the paratha sticks a little to the board, gently ease it off using a flat spatula or palette knife.
16. Place the paratha on the hot griddle. Turn it over when it changes colour slightly, you can see a few blisters on the under surface.
17. Turn over again and cook the other side same way.
18. Brush oil on both surfaces, one by one.
19. Continue pressing it gently, all over, using a flat spatula. If you see any steam escaping, seal it by pressing it with the spatula. This helps it to fluff up into a ball.
20. Cook until crisp and nicely browned on both sides.
21. Serve hot.
Note
1. Another easier way of stuffing the paratha is to roll out only one 6 inch circle, place stuffing in the centre and fold it over like a pastry or gunjia. Now gently roll it out. The shape will not be round, but elliptical.
2. Frozen or chilled parathas can be re-heated before serving, either individually on a griddle or in a microwave - place 4-5 parathas spread out on a plate and heat for 2-3 minutes on maximum power.
3. They also freeze quite well but should be defrosted properly before re-heating.
4. If there is any left over dough, you can make plain parathas and eat them later.
Vanisri of
Illatharasi
has contributed Jeera Rice and Shahi Paneer :
You can read the recipe for mouth water shahi paneer and jeera rice on her blog.
Swati Acharya
has contributed yummy Gajar Ka Halwa.
Her recipe for making Gajar ka Halwa :


Gajjar ka halwa remains dear to me and loyal. It's dear to me becaz it was prepared on the occasion of my engagement ceremony and my hubby's family loved it very much so it was a sweet beginning for two families and loyal becaz it has never disappointed me whenever I attempted it even in a hurry.
Now I think I should start with the recipe preparation method:
Ingredients:
Grated carrot: 5-7
Milk: 2 cups
Sugar: 2-2.5 tbsp
Ghee: 1cup
Powdered elaichi /cardamom: 1tsp
Almonds/cashew/raisins: as much as u wish
Method:
Cook grated carrot by adding 2cups of milk in a heavy bottomed pan; u can also pressure cook it but I prefer cooking it in open pan; cook this with medium flame until the excess milk evaporates or absorbed which takes about approx.15-20mins.

Add sugar to the grated carrot cooked in milk and mix well till sugar melts or is dissolved completely.

Then add ghee to the mixture and mix well and cook until ghee separates from the pan.

Heat 1tsp of ghee and roast the cashews and raisins. Add elaichi powder and the roasted raisins and cashews to the halwa and mix well.

Now u can remove the halwa from the stove and transfer it to a bowl and garnish with chopped nuts and I prefer it to be served slightly warm and not hot.
Note:
Sauté halwa regularly once the ghee and sugar is added to avoid burning of halwa.
U can add saffron soaked in milk which will give extra flavor to the halwa.
Prajusha from icookipost has sent us Palak Paneer :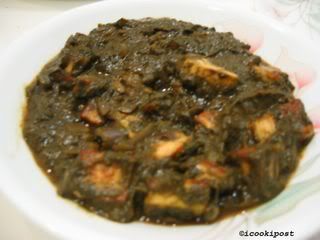 She also has sent me Mutter Paneer and Butter Paneer Masala :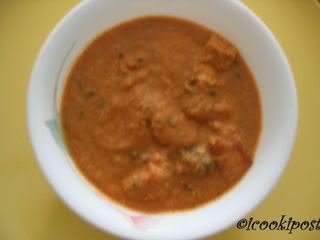 Nupur of Cinnamon Hut has sent Mooli Parantha.
My Entry : Punjabi Style Moong Dal and Parantha :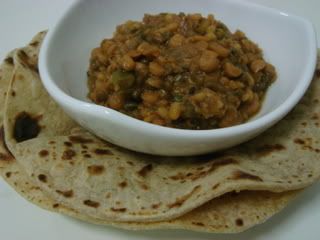 Moong Dal :
Ingrediants:
Whole Moong dal soaked for atleast 7-8 hrs (I have added a handful of chana dal too)

Onion : 1 big (chopped)

Oil, Jeera/Cumin, Hing, Red Chilli Powder, Garam Masala Powder, haldi/turmeric
1.Pressure cook moongdal, redchilli powder, salt(1tsp) for 2 whistles.

2.Heat oil in a pan. Add hing & jeera when oil is hot. Add chopped onion and sautee till they are soft. Add 1tsp of garam masala powder and sautee for 1 second.

3. Add pressure cooked dal, salt and water. Cook it on low flame till dal is cooked.

4. Garnish with corinader and serve hot with Parantha.

International Bloggers :

Jai and Bee from Jugalbandi
Check out their blog for Sag Gonglu
Cham Saravana of
Spice Club
Delicious
Aloo Parantha and Mutter Paneer's
recipe is blogged at Spice Club. Have a look.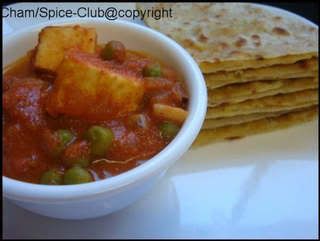 Thank you all for sending your entries. Next month RCI theme would be Gujarat. Priyanka of
Asan Khana will be hosting RCI-Gujarat.
1. Blog a Gujarati dish or if you have one in your blog you can send the link and the picture
2. Size of the photo :320x240
3. Send in your entries by 31st May.
4. Mail in your entries to pranks25@gmail.com
5. Non bloggers please send your recipe and photo.
I would like to request our Singapore bloggers to host this event if they are interested. Please write to me with your interests to vasurag1993@yahoo.com.sg