Sakkare Chapathi/Chini ke Paranthe/Sugar stuffed flat bread was something which we (me n sisters) as children craved for. We love it even now. This simply simple sweet chapathi goes to Srivalli for her
roti mela
.
Asha
of foodies hope and
Sowmya
of Creative Saga had awarded my blog as yummy blog. Now it is my turn to give it to few more yummy blogs. As per the rules I have to "list four of my favorite desserts that I have prepared or eaten and pass the award to four of my fellow bloggers".
Here are my 4 most favorite desserts : (it is really very difficult to name only 4 coz I love all desserts)
1. Holige/Puran Poli
2. Chiroti with Badam Milk
3. Jalebi
4. Badam Halwa
5. Gulab Jamun
6. Rasmalai .
..
:P I told you I cannot stop naming them..
Now I would like to give away
yummy blog award
(award pic in the side bar of my blog) to fellow bloggers. If you have already received them, enjoy it again.
Mansi Desai of
Fun n Food
Divya of Divya's
Cook Book

Sagari of
Indian Cooking
Ruchi of
Ruchii
Long back I received
rocking girl blogger
(award pic in the side bar of my blog) award which I did not give away. I would like to pass on the award to
Priyanka of
Asan Khana
Nupur of
Cinnamon Hut
Neha Agarwal of
Tasty Recipes
Swati of
Sugar Craft India
Trupti of
Recipe Center
You all have yummy recipes on your blog and all of you rock girls. Enjoy Cooking and Blogging.
Finally coming to the recipe of Sakkare Chapathi, you need the following to make them:
Chapathi Dough
Sugar
Ghee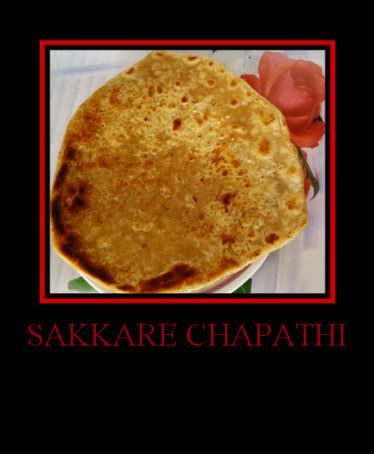 Method:
Roll chapathis of 7 cm diameter and apply sugar on the surface of chapathi.
Fold the chapathi to make triangle.
Roll them into 1/2 cm thick chapathi/parantha and roast it on hot tava. Use ghee to roast chapathi. Enjoyy!!
P.S. Children love this chapathi; at least me n my son Akash love it :)
I have been tagged by Trupti for 10 pictures MEME. I will come up with my ten fav pictures in my next post. Till then all of you enjoy sakkare chapathi.