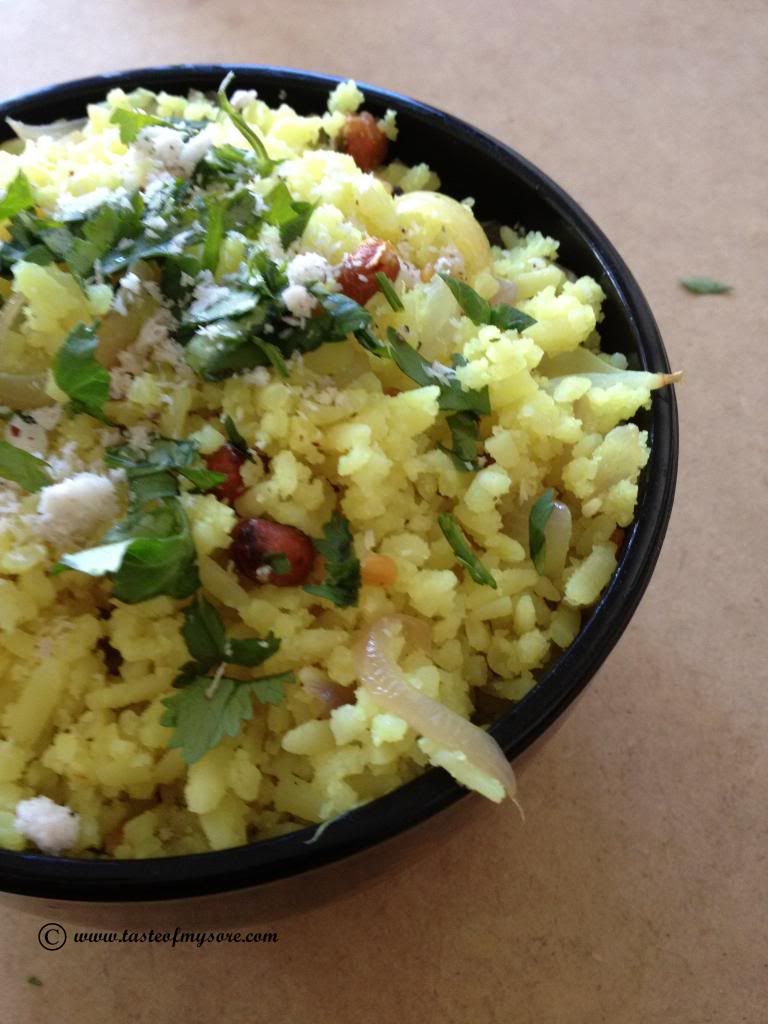 You need the following to make it :
Pressed Rice/Avvalakki (
Thick variety
)- 250g (serves 3-4 adults who have good appetite)
If you are using thin variety just wash and use

.
Onions-2 large; cut into thin pieces
Green Chillies - 10-15 (adjust according to your taste) slit lengthwise
Mixed Vegetables like Peas, carrots, (optional)
Coriander leaves-a handful; washed and chopped finely for garnishing
grated coconut- 2 tbsp for garnishing
Lemon Juice-1tbsp
Tampering :
Oil-3tbsp, Mustard (12 tsp), kadaleble/chanadal-1/2 tbsp, uddinabele/uraddal-1/2tbsp, harishina/turmeric- 1/2 tsp, Curry Leaves
I don't measure oil for avalakki. Please use it as required. The final dish should not be oily.

Wash and soak avalakki/pressed rice in enough water for 5-8 min. Check after 8 min. When you press it btw your fingers soaked rice should break into two pieces with ease. Transfer it to colander and remove water from pressed rice.

If you are using frozen vegetables, microwave them with little water for 1.5mins.
Method :
1.Heat oil in a kadhai/pan. When oil is hot add mustard seeds.
2.When mustard seeds stops spluttering add chanadal and urad dal, turmeric and curry leaves go in next.
3.Add onions and stirr. Fry them till they are pink and soft.
4.Remove water from microwaved veggies and add them now. Give a nice stir. Add salt, pressed rice/avalakki and give a final stirr.
5.Reduce the flame and cover the pan. After 2-3mins switch off the stove. Add lemon juice and give a final stirr. Cover and leave it aside for 5 mins before you serve. Garnish with chopped coriander and grated coconut before you serve.