After
Chat party
, salad dip/cucumber chaat/ಸೌತೆಕಾಯಿ ಖಾರ was in demand among friends. I am posting my recipe for salad dip here. It is very sour& hot, so use it with caution! or adjust green chillies according to your taste.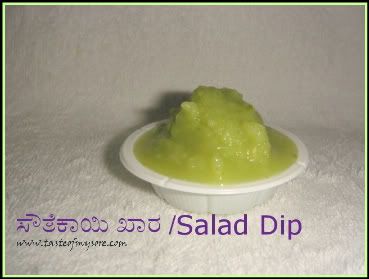 To make ಸೌತೆಕಾಯಿ ಖಾರ / Salad Dip you need the following :
Raw Mango - 1
(for residents of Singapore, if using raw mango available in supermarkets
. They are less sour.)
Indian Raw Mango - 1/2 or 2 wedges (mainly because they are very
Green Chillies-8-10 (this will yield ultra hot chutney..unless u have fire engine readily available)
Coriander Leaves- 5-6lines
Mint Leaves-2 lines
Salt and Sugar to adjust the taste
Cut Raw mango into bite size pieces and grind with rest of the ingrediants without adding water in a mixer grinder/blender to a smooth paste. Add salt and sugar to adjust the taste.
Serving/Eating Suggestion : Spread the chutney generously over cucumber/carrot or just dip the salad wedges and eat.
Akash had taken part in a fancy dress competition (at his school) and he did not get a prize. :( ..poor Akash, forgot to wear his pants..how will the teacher consider him? When asked he said.."oh no..I only wore jacket and the helmet and also I had school shots so did not wear the pants you gave me" .. :( poor me..I had nothing to say except laugh when he was not around.. dare not laugh in front of him, coz he was so upset on not winning. Daddy had made Singapore and India flags and jacket with a backpack for him, mummy and
Anupriya aunty
had made helmet for him...poor boy he forgot his pants..he was all depressed when he did not see his pic in school news letter so mommy promised him to put up his photo in her website.. :D that was all mommy could do to make him feel happy.
We told him winning is not everything in life; participation is most important to learn and develop a winning attitude. It was all Greek and Latin for him. I hope he will understand it as days goes on.
Blogger's Meet:
We visit each other's blog, left lovely trails around; we live in a small country where it takes barely 1.5hr to reach the other end of the country..still we were so far...I thought why not reduce this distance..? and make friend's with each other? It worked out..It was gr8 meeting each other and discussing many things. There was no specific agenda, participation was more important and also to get to know each other was something which was on my mind for a long time. Atlast..we made it. We contributed money to Briana you can check the details on
Illatharasi blog
. Here is a pic of happy foodies :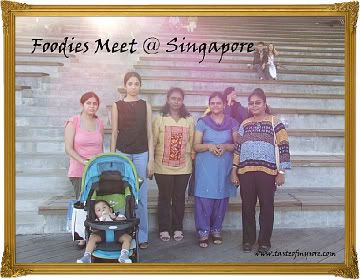 we have not posted anyone's name just to play safe. I know many of them have asked for names etc on Priyanka's blog. Just keep guessing ;) Sowmya's cake was awesome and Priyanka's Sandesh was delicious. We had coffee at Toast Box. I have fallen in love with Toast Box's Coffee and all thanks to Priyanka for introducing it.