The theme for MBP is very interesting 'Street Food'. MBP aka Monthly Blog Patroling is a brainchild of Coffee of
The Spice Cafe
and it is hosted by Sia of
Monsoon Spice.
RCI which is a brainchild of LakshmiK of
Veggie Cuisine
, inspired us to start a similar event for Singapore Women's Club and thus SWC was born. I must say our women's club members are now showing their awesome culinary skills through this event which was the main purpose of starting this event. We are sharing our cuisines through this event. Thanks to LakshmiK for her wonderful idea. This time theme is 'Cuisines of UttarPradesh/Awadh'. I thought of preparing Kachori which is UP cuisine also it is most popular street food in UP. A Single recipe for two events ;-) yeyeyey....
Khasta Kachori
recipe is taken by
AsanKhana
Blog. You can visit her blog for a detailed step by step recipe. Here is a picture of Khasta Kachori for you all.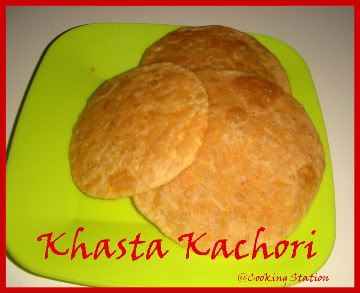 Kachori
was lip smacking. I was only left with half of it just to taste. Akash was mightily impressed with Kachoris while hubby looked for more... ;) Thanks for sharing a lovely recipe Priyanka.
I was browsing Sia's blog for MBP details and it reminded me of a
Broccoli soup recipe
which I wanted to make for a long time. So here is what MBP offers..cooking from other blogs, isn't it nice? My hubby does not appreciate soups, but he took two bowls ..which means it was too good. Try it to know yourself from Sia's blog. Thanks for sharing the recipe Sia.