Soppukadale/Kadalegida is my all time favorite. It had been ages since I feasted on them. Winter vegetables like fresh peas,
avarekaalu
, soppukadale etc are cooked in different ways in each household of Karnataka. A housewife has to be creative to create as many dishes as she can out of them. Although avarekaalu (hyacinth beas/surti papdi) are available through out the year these days, the crop harvested in winters are most flavorful (sogadu tumbida kaayi as we say in Kannada)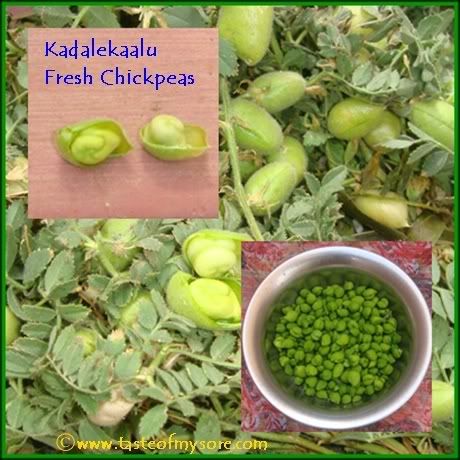 Mom and MIL makes kosambari/salad, chitranna and adds these fresh chickpeas to upma also. We love all three. Here is Chickpeas Lemon Rice for you. The recipe for lemon rice is very simple.
You need the following to make Chickpeas Lemon Rice :
Chickpeas : 1 cup (Variations: cooked Avarekaalu/Fresh Peas)
Cooked Rice : 2 cups (left over rice is also suitable)
Green Chillies : 4
chopped length wise
(or adjust according to your hotness levels)
Kadalebele(Chanadal) : 1tsp
Uddinabele (Uraddal) : 1tsp
Mustard : 1/2 tsp
Turmeric : 1tsp
Curry leaves: 8
Coriander leaves : 1tbsp (chopped)
Lemon Juice : 1 tbsp (or adjust according to your taste)
Oil : 2 tbsp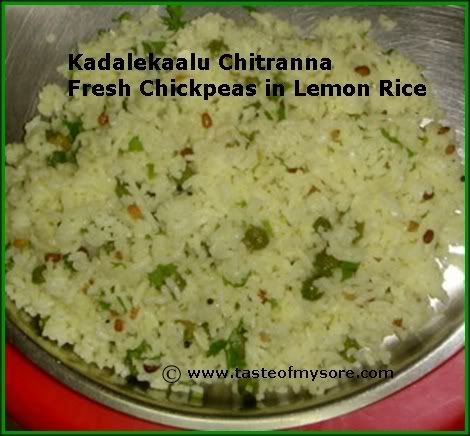 Method :
If you are using hot rice, spread the rice on a wide plate and let it cool
Heat oil in a wide pan. Add mustard seeds and let it crackle.
Add chanadal, uraddal and let them brown
Now goes curry leaves and chopped green chillies. Give a good stir.
Add turmeric and fresh chickpeas. Stir well again. Lower the flame and cook them with lid covered on the pan. Add little salt to avoid dehydration of freshchickpeas. Chickpeas get cooked very fast. It may take around 1-2 mins for them to get cooked. Swith off the stove.
Add rice, remaining salt, chopped coriander and lemon juice. Mix well. Serve hot.
Variation to the above recipe which is already blogged on Taste of Mysore :
Sprouted Green Chana Rice
Where dried green chickpeas were used.
Sprouted chana usli
- a stirfried vegetable
Longbeans and sprouted kadalekaalu palya
- a stirfried vegetable
Event Participation:
Soppukadale Chitranna goes to JFI-Chickpeas hosted by
Sometime Foodie
. JFI was a brainchild of Indira of Mahanandi blog.
My Legume Love Affair was started by Susan of
The Well Seasoned Cook
. Also this goes to Srivalli's
My Legume Love Affair-7th helping.