Kadalekaalu usli makes a good snack in the evenings or a good accompaniment with chapathi. You don't have to use sprouted kadalekaalu/chana always. Soaked/fresh chana can be used to prepare this dish. I had sprouted chana with me and I have used it.
Prep-Work:
Soak kadalekaalu/chana for 8 hrs
Pressure cook kadalekaalu/chana for 3 whistles with little salt.
Ingredients:
Cooked kadalekaalu/chana-2cups (drain water from chana before adding it into the pan)
Onion-1 big (peeled, washed and chopped into fine pieces)
Green Chillies-1 (chopped into circles)
Curry leaves-2-3 leaves
Coriander Leaves-2-3 tsp (chopped)
Fresh grated coconut-1tbsp
oil-1/2tbsp
sasive/mustard seeds-1/2tsp
uddinabele/uraddal-1/2tsp
salt
Heat oil in a pan and add mustard seeds and when it stops crackling add uddinabele/uraddal and let it brown.
Add curry leaves, chopped greenchillies, chopped onions and stir. Fry onions till they are soft. Cook on medium heat.
Add cooked chana, coriander leaves, grated coconut and little salt and give a good stir. Switch off the stove and cover the pan and leave it aside for 4-5mins. Stirr and serve hot.
Chilli I used in the dish is from my little garden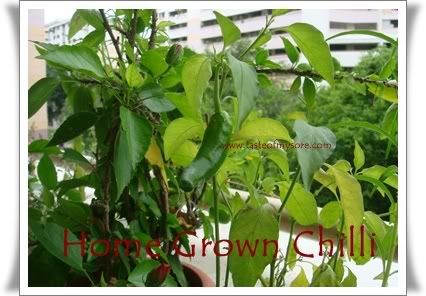 How sad..
GYO
takes one entry per blog..I wanted to send this too..