I went on making Badam(Almond) Powder mix for Badami Haalu/Badam Milk & on the road of discovery a delicious halwa was made. Both Milk(hot & cold) & halwa tasted wonderful. I made the powder twice on popular demand at home. Here is the recipe ...
Ingredients:
Badami/Almonds - 2 cups
Cashewnuts - 1 cup
Pista - 1 cup
Nutmeg Powder - 1tsp
Saffron strands - 15
Color- saffron color a big pinch
Edited to add
: Cardamom Powder : 1/2tbsp
Toast all nuts over stove top pan/oven/microwave whichever way is convenient to you. They should be crunchy to eat once they cool down. Let them be at Room Temperature when you begin the process of powdering.
Take all the ingredients with toasted nuts and pulse them in mixer/blender/...
The end product should be granular.
Heat up a thick pan and spread the mix over it and switch off the stove. Keep stirring in 2 mins interval in this way the excess oil that oozed out during pulsing will dry and the fragrance is still retained. Cool to room temperature and store in a airtight container.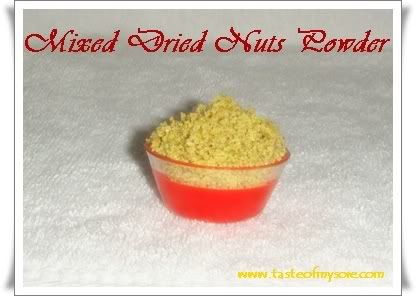 Add 1tbsp of this powder to 200ml of hot milk with sugar and serve ..or chill the milk and pulse it in a blender so that the powder and milk are mixed well and serve.
This is not a good picture but still sharing it to show how it may look:
Color in the rim is because of the saffron which released it's color when I left it for a while....
Mixed Dried Nuts Halwa :
Dried Nuts Powder : 5tbsp
Whole Milk : 1/2litre
Sugar: 5tbsp (or as per your taste)
Ghee: 1tbsp
Heat milk in a thick bottomed pan and let it boil and reduce to half. Keep stiring in between..
When milk has condensed to half of the original quantity add dried nuts powder and condense further untill it starts thickening.
Add sugar and ghee and keep stirring till sugar dissolves and the halwa thickens. Remove the pan from heat and let it cool... Serve at room temperature..
Halwa was made for Sai Prasadam so you can see few flower petals on it..