I kept my awards for a very looooong time with me :D well, I was enjoying them ;) and it is now time to share the happiness. Before I give away the awards I would like to do the two tags I received from Priti, Veda and Anisheetu. Because Priti tagged me first let me do it first :
Answers to following questions :
- What was I doing ten years ago
I was studying
- What are five things on my to do list for to day
Finish my Monday job in office
Teach Akash
Cook dinner at home
Bloghop to drool over some nicest dishes that my fellow bloggers have cook
Sleep early ;)
- places I have lived at
Mandya, Chitradurga, Bangalore, Ranchi, Gandhinagar, Singapore, ..in...btw Mysore
- jobs I have had
Research Scientist, Research Coordinator
- what are five snacks I enjoy
Maddur Vada, Paani Puri, Churmuri, aaaah...impossible to think coz I feel like eating them all now....I love all snacks :)
- what things would I do if I were a bilianaire
Give me a billion and I will tell u ;)
Second Tag is from dear Veda and Anisheetu has passed me Magic Lamp of Luck
The mighty
Genie King
and the beautiful
Genie Princess
from the magical Land of Faraway are back! Upon escaping the clutches of their Evil Master after being held captive for 1000 years, the magical genies have been busy flying on their
Magical Flying Carpet
, granting wishes and spreading love throughout the blogosphere.
And now, the genies are back with a special gift for everyone! Behold the sacred,
Magic Lamp of Luck
! With this magic lamp, your blog will enjoy much good luck and fortune, warding off all things evil lurking around in the blogosphere. We would like to share this magic lamp with you so please pass on the Magic Lamp of Luck to those in need of some good luck. Remember, do not be greedy or unkind, evil or vengeful and good luck & fortune will always be with you! Join us on another exciting magical adventure as we spread goodwill and good luck to one and all! Master List :
Thanks Veda and Anisheetu for wishing my blog luck . I would like to pass it on to :
Sowmya of
Creative Saga
Cham of
Spice Club
Prajusha of
ICook IPost
Shreya of
Mom's Cooking
Rashmi of
en vittu virundhu
Time to pass on other awards :
Prajusha and Mrs.Srilekha has showered their love in TOM by giving Yum Yum blog award.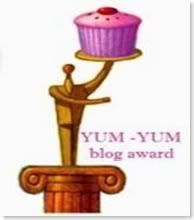 I would love to pass this on to
Sunshinemom of
Tongue Ticklers
Anisheetu of
My Kitchen
Vedamurthy of
Iyengar's Kitchen
Roma of
Roma's Space
Usha Prashanth of
Samaikkalam Vanga
Vani, Priti, Priyanka & Srilekha made me feel happy by giving Friendship Award. I am passing this on to
Nupur of
Cinnamonhut
Sowmya of
Creative Saga
Sukanya of
Sukanya's Musings
Nags of
Truly Madly Deeply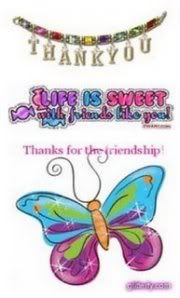 and to Vani, Priti and Priyanka again.. for being such sweet blog buddies.
Many thanks to Veda, Usha Prashanth and Rashmi for passing me Yummy Blog award. Your blogs are yummmy too.. I would love to give yummy blog award to
Rekha of
Plantain Leaf
Farida of
AzCookbook
For Award Picture please click
here
Many thanks for Roma for sending across a big giant bear hug to me. Hugs to you too..
Have a great day ahead...