One of our neighbor in India is a Maharastrian by gene and Kannadiga by birth. She often feasted us with some marathi style food which were Kannadigised either by name or by adding an additional ingredient. One of her fusion food was Bombai Gojju a variation of Zunka of Maharastra. Since the dish was always made remembering our dear K born M neighbor, this goes to Neha who is hosting SWC-Maharastra. Neha here is a fusion food for you :D ! I have something authentic too..'batata vada' which we enjoyed with Pav (Bun) as our morning breakfast! You can browse through www(dot)mumbai-masala (dot) com for batata vada recipe and other authentic Maharastra style dishes. I have tried a few from their website and it has always worked well. Here you go with the recipe of Bombai Gojju :

Bombai Gojju/Zunka-varied
to make gojju for 2 people :
Ingredients :
Tomato : 2
Onion : 1
Curry leaves: 2-3 leaves
Oil: 1tsp
Mustard: 1/2 tsp
Turmeric: a big pinch
Green/Redchillies: 1 -2 cut into 3-4 small pieces
Besan/Gramdal flour/roasted chickpea flour: 1.5tsp
Curd : 1tbsp
salt
Clean and wash Onion, Tomato, chillies and set it aside. Heat oil in the vessel you want to make gojju.
When oil is hot, add mustard seeds and let it crackle. Add chillies, curry leaves, onion and saute.
Add turmeric and little salt and continue sauteeing till onions are transcluscent.
Add in chopped tomatoes into the vessel, add water, cover and cook till tomatoes are soft.
Mix Besan with curd and salt(u have added salt once, so adjust the quantity accordingly)
Pour this mixture to tomato and onion mixture and keep stirring.
Besan starts thickening so keep stirring and add additional water if required to make curry of required consistency. Taste and adjust flavors. Boil the curry for 2-3 mins or till the raw smell of besan flour disappears whichever is first. Garnish with coriander and serve with hot chapathis.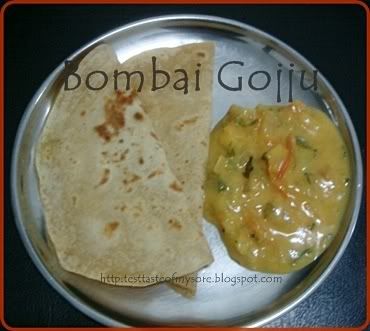 Batata Vada
Recipe Courtesy:
mumbai-masala
While you all enjoy Batata Vada and Bombai Gojju, don't forget to send in your entries to Neha of Easy n tasty recipes at http://easyntastyrecipes(dot)blogspot(dot)com, in case you are in a hurry....here are the details :
Email the following details to neha.agrawal.2610[at]gmail[dot]com with SWC:Maharashtrian cuisine as the subject line by 31st July.
Your name
Your blog name
Name of the Recipe
Permalink of your post
A photograph of the final dish (Any size is fine.)
Also sending Bombai Gojju to Curry Mela event hosted by Srivalli of Cooking for all Seasons