Kesaribhath with Pineapple
Divine prasadam(offering) to gods
Preparation time : 10min

Making Time : 10mins

Total Time Taken : 20min
Makes :

4 bowls/5-6 servings
1 Tbsp : Raisins+Cashewnuts
300g: Water (Rava: Water ::1cup:3cups)
7-8strands: Saffron soaked in a drop of hot water
Food Color : a pinch (optional)
1.
Fry Chiroti rava* in a thick bottom pan on medium heat, till fragrant.

Transfer rava to a plate. Let it cool down.
2.
Heat a tbsp of ghee in same pan. Add cashew nuts and fry till they turn golden brown. Add raisins. When raisins start plumping up add pineapple pieces. Fry for next 2 mins or till pineapple is fragrant. Add measured quantity of water and a drop of color.
3.
Measure sugar and keep it ready.
4.
When water starts to boil add a pinch of cardamom, switch off the stove and start adding Chiroti rava by stirring continuously. Add sugar after adding rava. Mix and keep it aside for 5-8mins. Pour saffron strands plus water on the prepared Kesaribhath and mix well. Super soft Kesaribhath is ready to eat!
1.
Chiroti Rava is very fine semolina.
2.
You can choose to add any fruit. If you are adding banana, make sure not to fry it for only 5 seconds. Pineapple and Banana goes well with this sweet dish.
3.
Kesaribhath prepared this way remains super soft for long hours.
OLD POST
It is 5 a.m. in the morning and ladies are busy visiting the temple with nicely set prayer plates. Ladies clad in crisp silk sarees carrying prayer plates .... Red, Yellow, Green, Purple colors galore on the prayer plate.
Nice aroma of puliyogare/kesaribath/pongal/..aahaa...hhhmmmmmm...emanates ..which is supposed to be offering to gods/godess....it is a common scene in Mysore during aashada maasa especially on tuesdays and fridays.
Not to forget the important part ...me and my sisters used to promptly line up for prasadam ....while amma was still taking rounds of peepal tree ahahaahahahhaa...
My Sis :Akka..pooje madlilvene..evathu asahada shukravara..asked my sis over phone..
English : sis, did not perform prayers today as aasahda fridays are auspicious ...
Me : :P ashada, sharavana ella onde bidu illi said me
English : hmmm...ashada and shravana ...everything is the same here ..so ..
this was our conversation few days back over the phone. In India festivals are a joy when we see good participation from neighbours etc., Once a person leaves India, situation changes? or we change..not sure.. :P atleast I have grown lazy and have found several shortcuts to celebrate festivals..easiest one is to forget it ahahahaa...which I don't do.. well, coming back to my kesaribath recipe, I made this as an offering to godess Lakshmi today on the auspicious aashada shukravara (Friday).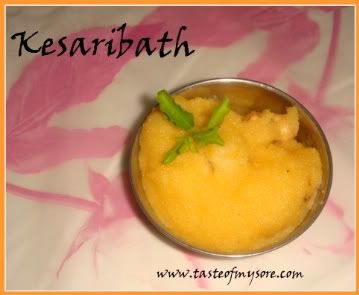 You need the following :
Rava/Semolina/Cream of Wheat : 1cup (I have used Chiroti Rava)
Milk : 2 cups (2cups milk+1cup water, if you are using chiroti rava)
Cardamom Powder :1/2tsp
Sugar : 1 cup
DryFruits : 1tbsp
Ghee/Clarified Butter : 2tbsp
Saffron Color : a pinch
In a heavy bottomed pan heat ghee. When it is hot fry dryfruits and keep them aside. Fry Rava in the left over ghee till a nice aroma emanates/rava changes color; Mix cardamom powder with it. Keep it aside.
Heat milk in a pot/a vessel in which you intend to make kesaribath.
When milk starts boiling, reduce the heat and color, and start adding semolina little by little and keep stirring the mixture. If you don't stir lumps will be formed.
Once you complete adding semolina add sugar all at one time and give a nice stir and continue cooking for next 1-2 mins.
Switch off the stove and garnish with fried dryfruits.
Enjoy it! hot...