Puffed Rice Brittles/Puri unde/...call them anything .....they add a good crunch while you eat. It is easy to make and what else can a mom like me wants? when I always on look for simple to make snacks for my kiddo! The total time taken to make is about 15 minutes if you have all the ingredients at home. Here you go with the recipe..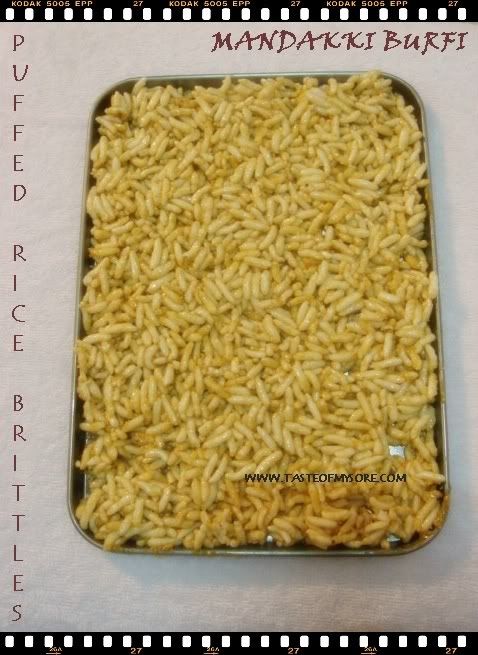 You need the following :
Puffed Rice
Grated jaggery
roasted sesame seeds
roasted and deskinned peanuts (optional)
grated dry coconut (optional)
ghee-1tsp
water - 2tbsp
I am not writing the amount of puffed rice qty etc as I did not measure them while making it. You can take approximately. About 4 cups puffed rice: 1/2 cup jaggery ..
Take jaggery and water in a thick bottomed wide pan. Melt jaggery and let it cool. Filter it. Jaggery may contain dirt etc. Clean the vessel and dry it.
Grease a tray with ghee and sprinkle sesame seeds on it.
Take the syrup in the same thick bottomed pan and heat it on medium flame till you get a 2 string consistency syrup. When you pull a drop of syrup btw your thumb and index finger it should form two strings. This takes 2-3 mins time. ..so keep checking.
Add rest of the ingredients and mix. Switch off the stove. Transfer the mixture to the tray. Grease a rolling pin and press down the mixture to spread uniformly over the tray.
Let it cool. You can garnish with dry coconut and nuts if you wish. Cut them into squares and store in a refrigerator or outside.