We have just fallen in love with the idea of drinking soup before we think of having dinner. A flavor a day is my way of taking soups so I don't get bored with the idea of drinking soup. A dear friend who knows me very well asks me 'so...which soup recipe are you hunting today :D'....I had red pepper at home, so thought of making a soup with tomato. All soups which I have been making has 4 'essential' ingredients they are 2 veggies, Onion and Garlic any thing additional added to season depends on the vegetable used. I have followed the same 'essential ingredient' principle here, using Italian spices to season the soup. The bright red color made :) and taste was just the way I wanted it to be..less salty, subtly spiced and stomach friendly.

Ingredients :
Red Bell Pepper : 1
Tomato : 2 big
Onion : 1 medium sized
Garlic : 1 pod
Water to make up the volume of Soup
Seasoning : pepper, Mixed Italian spices -store bought, salt
NO OIL, NO BUTTER, NO CREAM ...STILL NICE :D
Grilled all the vegetables on stove top grill...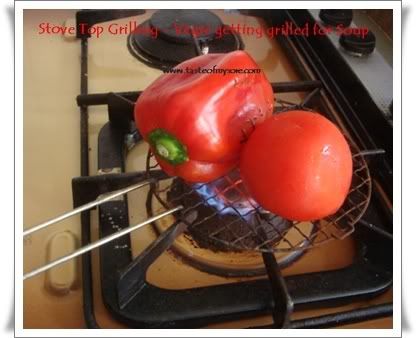 When you start grilling while onions and garlic with skin you get a very nice aroma..(I liked it, you may or may not like it)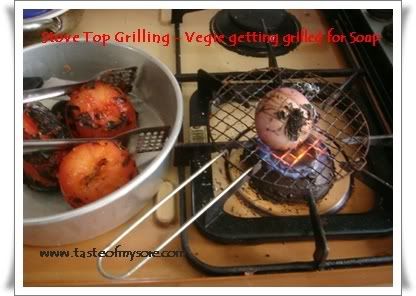 Once you grill all the vegetables till they are blistered all over; remove the blistered skin and wash them under running water to remove any adhering burnt skin. This way the final soup will not smell burnt!
Blend everything in a blender and filter to your soup pot add bring it to boil. Add salt and other seasoning ingredients mentioned above according to your taste and remove from stove. Enjoy hot soup with your favorite accompaniment.
Here is a bowl of 'no fat' plain soup seasoned with spices for you !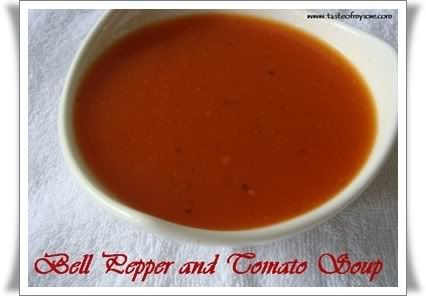 Sending this bowl of soup to
MM-Grill
It hosted by Sig of Live to Eat
Also this goes to
colorful event
hosted by Sunshine Mom of Tongueticklers blog. This month's color is
RED