It never occurred to me that my blog missed my favorite kosumbari.. till I was reminded by protein rich event hosted by Sangeeth of
Art of Cooking Indian Food
. Few of the protein rich foood for a lacto vegetarian like me are Milk, Cheese, Beans, Spinach, legumes, corn, oats etc
Many protein rich food mentioned above are also rich source of carbohydrates. Simple to eat protein rich food for me should contain less carbohydrate, good amount of protein and give us energy to carry on our activities and easy to make. Not to forget micronutrients like vitamins, minerals etc which should be included in our day to day meals. Now sprouted green beans make a good fit for the above category. It makes a good mid morning snack.

"Produced from mung beans, the sprouts are
free
of cholesterol, and are ideal for anyone counting calories. O
ne cup of mung bean sprouts contains only approximately 30 calories, 3 grams of protein, only 6 carbohydrates, and only 0.2 grams of fat.
Sprouts also contain a high source of fiber, are easily digestible and contain a high concentration of enzymes facilitating the digestive process" quotes a
Associated Content website
.
You have a look at
10 reasons why you should eat sprouts
You can buy readily available sprouted greenbean/mungbean which is available in supermarkets to make this salad. It saves lots of time. Alternatively if you choose to make it at home all you need to do is to follow these simple steps :
1. Soak beans overnight or at least 8hrs
2. Drain away excess water from beans
3. Transfer the sprouts into a air tight container
4. keep it in dark place (esp green/mung beans) for 12hrs
5. At the end of 24hrs you can see very well sprouted beans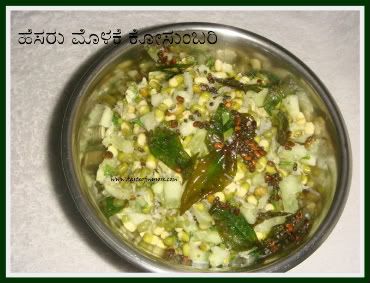 Kosumbari:
Kosumbari is a Karnataka style salad. It is a medley of fresh sprouts/soaked lentils with cucumber/grated carrots, grated coconut and seasoned with salt and lemon juice.
You need 1 cup of sprouted beans to have 3g of protein into your diet.
You need following to make kosumbari :
Sprouted Mung beans : 1cup
Cucumber : 1 (peeled, and cut into very small pieces)
Coconut : 1tbsp (grated)
Green chilli paste : 1/2 tsp
Salt and Lemon Juice according to taste
Tampering
(Optional)
Oil, mustard seeds, urad dal/black split lentils, curry leaves and hing/asafoetida.
Heat oil and tampering ingrediants in the order mentioned. Allow mustard to pop and then add lentils. lentils should be brown before you proceed to add curry leaves. Switch off the gas and add asafoetida.
Toss all the ingrediants when you want to serve. Pour tampering over and toss again. Serve fresh.