This post is dedicated to all good memories of Menasinakayi Bonda, associated with Chitradurga and Davangere (C&D). There was no particular reason to eat them, we partied on bondas for all simplest to most happiest moments. Probably in those two cities no human being would say 'NO' to menasinakayi bonda. I have tasted bonda's in Mysore, Bangalore, and many other places but they are not as good as those which I relished in C&D. 'Ram and Co circle' of Davangere is world famous in C&D :D :P The bonda's that are made in C&D are crisp outside and softer inside; they are brown and not yellow when they are served. A packet of crispy mandakki(puffed rice) topped with chopped onion, chillies, coriander and 2 bonda's ...... slurrrrrrrrrp!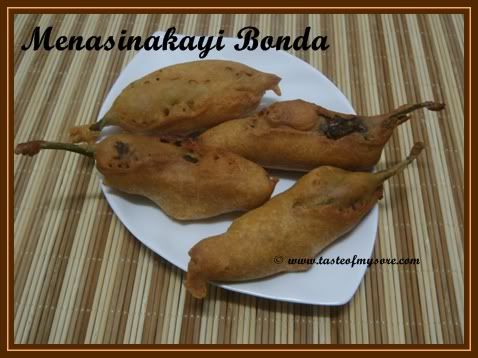 You need the following to make them :
Gram Flour/Kadalehittu/Besan - 2 cups
Rice Flour - 1tbsp
Ovinakaalu/Omam - 1/8 th tsp
Green Chillies - 8
Cumin Powder - 1 tsp (optional)
Salt - 1tbsp
warm water
Oil for deep frying
Method :
Mix gram flour, rice flour, salt, omam, with little water at a time to make a thick batter. Bonda batter resembles idli batter. Leave it aside.
Heat oil in a thick bottomed pan. Heat it on a very low flame.
Slit green chillies and remove seeds. Rub salt and leave it aside for 20 min in warm water.
Bring the stove to sim on which oil is kept.
After 20 mins, remove chillies from water. Mix cumin powder and salt and rub inside surface of the chillies with this powder.
Dip these chillies in bonda batter and leave it slowly in hot oil.
Fry these till they turn yellowish brown. Remove them and keep it aside.
!!!At this stage these bondas are only half done!!!
Repeat the above process for all chillies. Once you have half baked all bajjis, it is time to fry them again till they are golden brown. These bondas are crisp from outside and softer inside.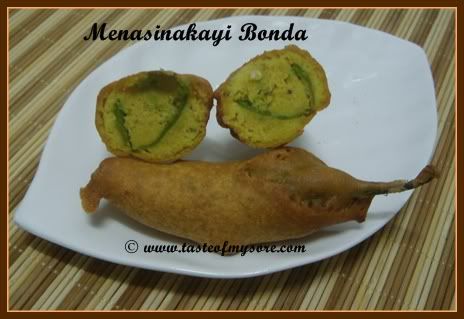 Onion Pakoda:
If you have any batter left, add finely chopped onions, coriander, curry leaves and little salt and make onion pakoda/bajjis.