Think of Spice ..event has given a favorite spice of mine to think for this month. I love garlic, and I would add it to as many dishes as I can as long as garlic suits to the dish perfectly. One among them is chutney powder or Chutney Podi.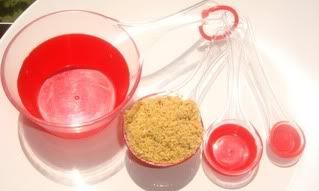 Ingrediants :
Roasted Chanadal/Huridakadalae/Pottukadalai - 1cup
Grated dry coconut -1/2cup
Red Chillies - 10 (adjust according to your taste)
Tamarind - 1/2tbsp
Curry Leaves (dried/roasted) - 20 leaves or 2 lines
Garlic Cloves- 3
Procedure :
1. Roast garlic, curry leaves, red chillies without oil on a pan
2. Leave tamarind on hot pan till it is warm. Remove any fibre or seed from tamarind or best is to use a seedless and cleaned tamarind.
3. Take garlic, curryleaves, tamarind, salt and red chillies in a blender. Blend them to a coarse mix. Remove it from the jar and keep it aside.
4. Take roasted chanadal and grated dry coconut in the same blender and blend till you get coarse mix. Mix both the powders well.
5. Blend the mixed powder in the blender to get a fine powder. I keep my final powder a bit coarse as I like it that way.
6. You can choose to tamper the Chutney powder (in such cases you may want to preserve the final powder in the refrigerator)
7.Enjoy this podi with hot rice, stuff it in to make stuffed podi parantha, sprinkle over dosas (esp masala dosa) , add it over idlis....many ways to relish it.
Tampering : Heat oil and add mustard seeds and once it stops popping, add hing and remove it from stove. This tampering can be mixed with chutney powder.