I love this simple rasam. Amma says it is good for ladies who have given birth (1-3 month post delivary period). Fresh garlic scores good points as a
natural antibiotic
and also due to other
medicinal properties
of garlic, garlic added food plays an important role in postpartum care. It is eazzy to make and it comes handy when u are cooking a hurried up dinner/lunch.
Meeta's theme for this month's montly mingle is 'comfort food'. She defines comfort food like this: " It's the type of food that picks us up when we are down, warms us when we are feeling lost and cold and blurs out the bad mood. The first mouthful takes us straight back to the familiar, the good; to the time when all was well.
My rasam falls under two categories : 1. under meeta's definition 2. my definition for comfort food 'which gives comfort (less work) for hands and less work for stomach to digest..so comfort for hands and stomach...so I decided to send this to
Meeta
for her Montly Mingle.
Ingrediants for Rasam Powder
:
Garlic pods : 6 (old and fat) If they are new and thin, take more qty
Red Chillies : 10 (adjust them depending on the hotness level u want)
Jeera : 1/2tbsp
Oil : 2 tsp
Peel garlic and remove the skin. Blend garlic+chillies+jeera. Now heat oil in a thick bottomed pan, add garlic chilli jeera mix and fry till there is no moisture left. It looks like this when it is done :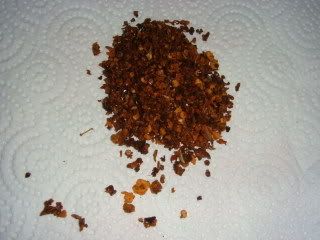 You can store this in a air tight container and use it whenever you want to make rasam.
To make Rasam you need these :
A spoonfull of rasam powder and 1 cup cooked dal. You need tamarind paste and salt to taste. Just mix all of them and boil it.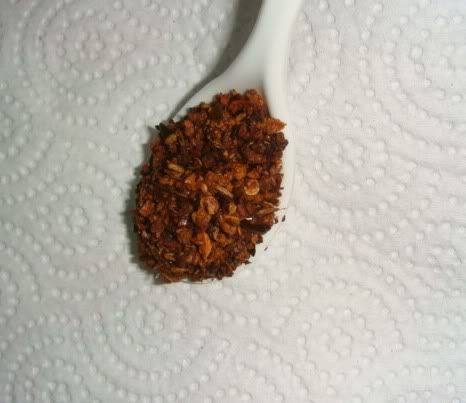 Adjust salt and sourness if required. Add tadka with mustard and curry leaves. Do not boil the rasam for a long time. Make only little qty or as much needed. Serve it with hot rice.