If you have travelled by train from Bangalore to Mysore you would have not missed eating Maddur Vada. The aroma of the vada makes you to buy atleast one, and u end up buying two more (if you like it). The recipe of maddur vada
has a twist here
with ingrediants chosen to make it more tasty. You can prepare these vadas before hand and serve (if you are still left with anything in the container) when you are watching a movie. This will go to Mansi of
Fun N Food
for her game night event party.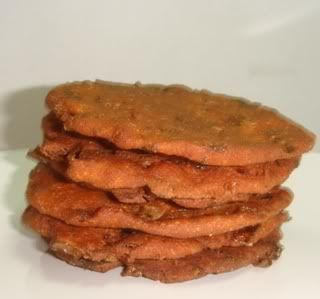 To make 30-35 maddur vada you need the following :
Rice Flour-2cups
Peanut, roasted, deskinned, powdered coarsely-1cup
Roasted Chanadal/pottukadalai/huridakadale/dalia (powder)-1cup
Semolina/Rava/Sooji-1cup
Besan/kadalehittu- 1 cup
Onions finely chopped - 1 big
Pudina/Mint Leaves from 5 lines finely chopped
Ginger grated-1tsp
Garlic grated-1tsp
Coriander leaves : 5 lines finely chopped
Curry leaves from 1 line finely chopped
Cinnamon powder 1/4tsp
Clove powder : a big pinch
Salt, Chilli paste (or red chilli powder), according to taste
Procedure:
1. Mix all the ingrediants and leave it for about 15mins. Mix it to a firm dough using enough water.
2. Make lemon sized balls and pat them to make a round
3. Dip it into hot oil and deepfry till golden brown.
4. Heat oil on a low flame. This will make the snack crisp.
5. Serve with chutney or it is tasty enough to eat on its own.