HAPPY SANKRANTI TO YOU ALL.
Close Up, when the ingredients are mixed...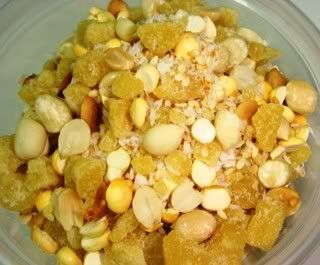 The word 'Sankranti' is derived from sat and kranti, meaning "good movement". More information can be found on
Wiki
. This period of the year also has agricultural significance. It is the harvest time !! Sankranti is a time to distribute new year crops among your family, friends, and neighbours. We in Karnataka distribute ellu (sesame) , peanut and bella (jaggery) mixture along with sugarcane and banana or a fruit which is available during the season among our friends. As kids we just waited for amma to dress us up appropriately in silk skirts with some good jewelary and off we went streets after streets distributing ellu bella packets. I miss that time of my past now. I took my 5yr old with me in the evening to distribute ellu bella to few Indian neighbours. It was a good experiance to learn their way of celebrating Sankranti.

This is was the last cup of sesame mix which I saved for taking pictures. My son loved eating them and R relished it. Though it can be made at any time of the year, festive mood is an added bonus and excuse for eating more. Here is how we make this wonderful mix which can be served as a snack too :
Peanuts : 1cup (roasted and deskinned)
Dalia/roasted chanadal/pottukadalai/huridakadale : 1cup
Coconut scrapings/dessicated/coconut pieces (dried coconut only) :1 cup
White Sesame seeds : 1cup (fried till they are light brown and fragrant)
Jaggery : 1 cup (cut into pieces or powdered which ever is convinient)
Mix all of them and voila! your snack is ready to eat!! Store in a airtight container
A festive treat for your loved ones
Preparation time : 1hr

Mixing Time : 5mins

Total Time Taken : 1hr
Makes :

half a kilo or more
150g: Palm Sugar (Jaggery)
1.
Roast peanuts and de -skin them.
2.
Pick and clean hurgadle.
3.
Cut jaggery into small pieces.
4.
Cut dry coconut into small pieces too.
5.
Pick and clean sesame seeds too. Fry on low flame till they are fragrant.
6.
Sun dry jaggery pieces and coconut pieces. If weather is not suitable, you can leave it on a warm pan. Take care not to melt jaggery.
7.
Mix all these ingredients and your ellu bella is ready to eat.
1.
Hurgadle is also known as Pottukadale in tamil, putnala pappu in telugu.
2.
Once peanuts are fried, allow them to cool down. Roll a rolling pin over them. This way it is easy to de-skin peanuts.