My blog received 'yummy blog' award from
Asha
and
Sowmya
. Thanks to you both for taging my blog as 'yummy' and my blog is very happy and demanded for some celebration. I made Damrot (Wintermelon halwa) and Chakli (instant) for my blog. My blog is savoring them so even you guys out there pick few chaklis and have some halwa!
Dhidir Chakkuli/Instant Chakkuli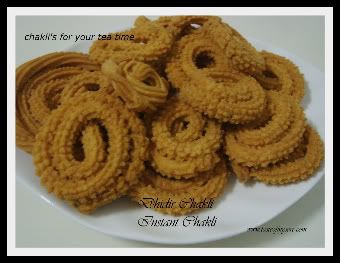 You need the following to make it :
Kadalehittu/Besan : 4 cups ***
Akkihittu/Rice Flour: 2 cups
(increase the qty if you get softer chaklis) ***

Roasted Chanadal/Huridakadale/pottukadalai powder: 1 cups ***
Ompudi (Ajwain) , RedChilli Powder, Salt according to taste
Benne/Butter: 1/2 cup
Baking Soda: 1 big pinch
Chilled water for mixing dough
Oil for deep frying Chakkuli
***
Adding more riceflour makes chaklis hard. The type of rice flour we get in Singapore makes it hard..so I add less rice flour. If the rice flour to besan to roasted chanadal powder ratio of 2:1:1/4 works best use it! Don't panic if you get softer chaklis, you just have to play with rice flour qty and it will be ok.
Heat oil on a low flame in a thick bottomed pan. Mix all the ingrediants nicely and add little water at a time and mix the dough. Dough should be firm and should resemble chapathi dough. Fill the dough in a chakkuli maker and make rounds like chakkuli/chakli. Deep fry in oil till golden brown and remove on a paper towel. Let it cool down before you enjoy them with hot cuppa.
My 5yr old was very excited to make them. You can see 'little chef' at work with chakkuli maker. He made almost all chakkulis for me.
All excited making rounds after rounds....ehehhehee..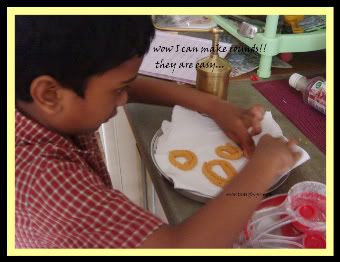 DAMROT
If you have attended a kannadiga wedding, you might not have forgotten Damrot, Idli, Chutney and Pongal you might have had for breakfast. Slurr..p..I was longing to make it for a long time! You can have a spoonful from here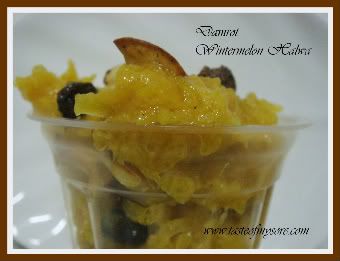 Here is how you make Damrot/Wintermelon Halwa
You need:
BoodukumbalakayiWintermelon/Petha - 4 full cups grated (without removing water)
Ghee- 1/2 cup
Fullcream milk-1cup
Sugar - 1cup or according to your taste
Saffron food color : 1big pinch
Elaichi Powder:1 tsp
Dry Fruits for garnishing
Take grated winter melon in a nonstick kadahi/vessel. Cook it under medium flame till the water evaporates. By this time winter melon would have half cooked in it's own water. Add half the amount of ghee and sautéed for a while and continue to cook further. Stir in between. When melon juliennes are cooked add saffron color, milk and sugar. Continue to cook melon pieces in milk till milk gets condensed and ghee separates from the mixture. Garnish with dry fruits and serve.
I will be passing on the award to other bloggers in my next post. I am on a look for 'yummy blog' now. Till then, all of you enjoy Chakkuli and Damrot!