I got a feedback from my readers that they are unable to read the entire post with pictures etc I am trying to resolve those queries, till then I apologise for the inconvenience caused to my readers.
---------------------------------------------------------------------------------------------
My new posts are not appearing on Sailu's Taste of India. You can subscribe to TOM by entering your email address on the top right hand corner of the page or just click on the RSS image.
----------------------------------------------------------------------------------------------------
Akkithari Idli/Billekadubu translates to round steamed cakes in English. Amma prepared it for breakfast at home. It is not much appreciated by hubby (coz it is not made in my in-law's house) so I don't make it often or I must say that it is made once or twice a year. In short, if u want to give a face lift to your upma (made of rice semolina) try this..
Billekadubu tastes best with Onion chutney and pudina & coriander chutney and that is how amma made them. Here you go with the recipe of kadubu and chutneys.
To make Kadubu you need the following :
Akki thari/Rice Semolina : Rice is washed with water and then spread over kitchen towel to remove the moisture. Dry it in hot sun. Grind it in mixer grinder to make semolina. You need 2 cups of semolina which will make atleast 5-6 big size kadubus.
Water : 4 cups
Oil: 1tbsp
Jeerige/Cumin-1tsp
Vanamenasinakayi/Red Chilli - 2 cut into 1/2" pieces
Karibevu/Curry leaves : 1 line cut into small pieces
Uppu/Salt
Kaayi turi/grated wet coconut - 1/2 cup
How do I make it:
1. Heat oil in a woke/vessel. Add jeera/cumin, red chillies, curry leaves and stirr.
2. Add water and salt.
3. Bring the water to boil. When water starts to boil slowly add rice semolina and stirr.
4. Keep stirring till it becomes thick. Remove from stove top and add grated coconut. Cover and keep till upma cools down.
<!--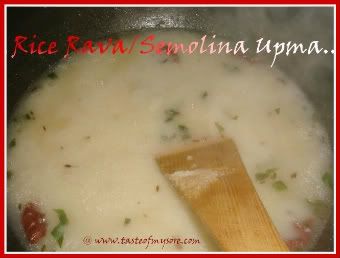 5. Make small round flat idlis out of upma and place them in a bowl greased with a teaspoon of oil.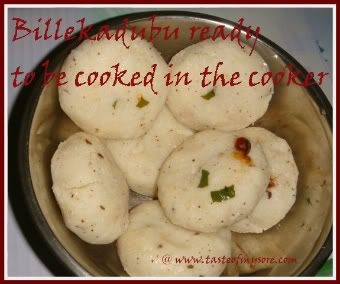 6. Pressure cook them in a cooker for 2 whistles. Remove and serve hot with chutney of your choice.
Onion Chutney :
Onions : 4 (deskinned and cut into 1/2'' cubes)
Redchillies : 4 (roasted in a drop of oil)
Tamarind : qty that of a small pea
salt
(Peanuts : optional, if u r using peanuts fry onions, red chillies and peanuts separately and then grind them together to make chutney)
1. I have not used peanuts here coz amma never added them with onion chutney. Grind all ingrediants together in a mixer grinder. Do not use water to grind the chutney. Water present in onions are enough to make a fine paste.
2. Heat oil in a pan and add the ground chutney to hot oil.
3. Fry the chutney till all 3/4th of the moisture from chutney is lost.
4. Check for salt levels and adjust with necessary ingrediants.
5. Remove chutney to a bowl and serve with kadubu.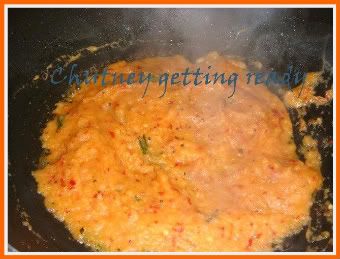 Pudina & Coriander Chutney (P&C Chutney)
I feel happy to use vegetables from our kitchen garden. I have pudina plant which we planted newly and they were smiling with fresh leaves which I used for making chutney.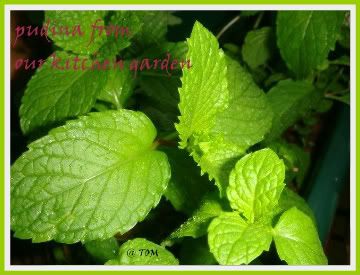 you need the following to make P&C chutney :
Pudina Leaves : 10
Coriander : from 4 lines
Wet Coconut : 1 cup
Green Chillies : 4
Huridakadale/pottukadalai/bhunahua chanadal - 1.5tbsp
Salt
Tamarind : a pea sized ball
water
1. Roast green chilles using a drop of oil on a hot pan. Add pudina leaves and continue to roast/fry till the leaves wilt.
2. Grind all ingrediants except
Huridakadale/pottukadalai/bhunahua chanadal.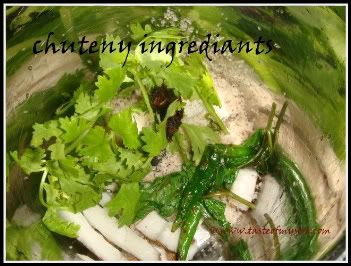 3. Add huridakadale when all other ingrediants are finely ground; grind again.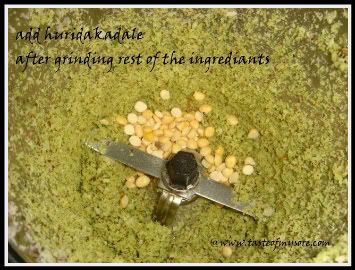 4. Add water and grind to make a smooth paste.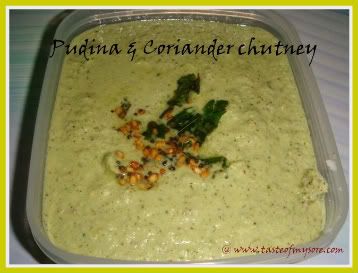 Chutney is ready to eat. You can tadkafy chutney by adding mustard, chanadal, urad dal, curry leaves, red chillies and hing to hot oil in the order mentioned.
Serve hot kadubu with onion & P&C chutney. Enjoy!!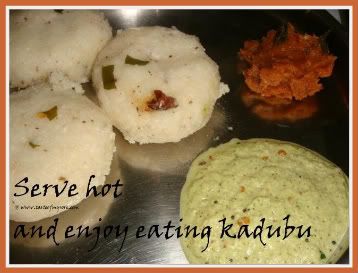 Asha of FoodiesHope has sent me a big bear hug from USA. Thanks Ashakka.
Priyanka of Asankhana has passed me Inspirational Blogger, You make my day and Good Chat blog award. She often chats with me about her food making and thinks I am chatty too.. :D You got it right Priyanka. ....Well that reminds me about my teacher's complaint to my dad about me. She was so angry on me coz I never bothered to shut my mouth in the classroom. She told my dad to keep his talking parrot at home and if I continued to talk more she would buy a ajji seere (saree worn by chatty old ladies) and make me wear in the class instead of my uniform..ahahahahaaa.....My dad teases me even now. Akash is no better than me..he does not have the word 'silence' in his word dictionary...ehehehee...
She says I make her day and AsanKhana was inspired by TOM..blush blush..I am on cloud 9 now..I am glad that AsanKhana is getting updated with full zoom.

A big bear hug to you Priyanka.
(Picture in the side bar)
Prajusha says I am nice and hence she has passed me Nice Matters award. Many thanks to you Prajusha, you are nice too..

so a big bear hug to you too

. (Picture in the side bar) Thanks to all fellow bloggers for making my day. I am glad to have found so many friends who shower their love in this special way.
Shubha Ravikoti of Chutkibhar Pyar also has passed Nice Matters award to me.

A big bear hug to you

also Shubha from Singapore.
Hope to make you all laugh at the round up.