Another classic dish from my MIL. We were greeted with a full plate of ottushavige/ rice noodles at my sister's place in Bangalore and my MIL made ottushavige/ rice noodles before we flew to Singapore. These two plates are for me to stare at whenever I miss home, kind of storing it for my future nostalgia ..for next 1 year or more.
Making these noodles at home means we always make podis few days ahead, as shavige making takes more time . Here is a plate which was made by my sis and her family for us..
From Left to Right : Cup 1 : Gasagase Payasa (poppy seeds payasa/kheer), Cup 2: Ellu podi (sesame & jaggery powder, Lemon Shavige, Plain Shavige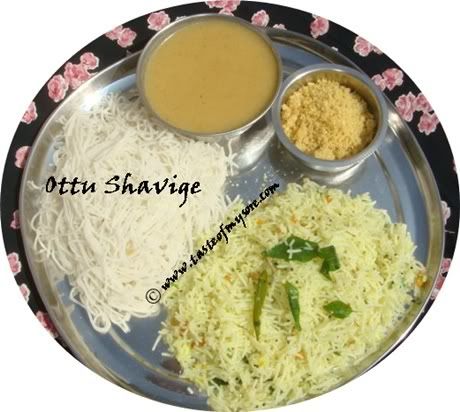 Here is how my MIL and sis makes Rice Noodles at home .. :
You need the following :
1 seru akki hittu (1 Seru = 1Kg of Rice Flour ....er...serves about 8 to 10 adults )
8 tumblers of water ( the usual calculation is 1 cup rice flour
:
2 cups of water )
Salt
1.Bring water and salt to boil in a thick bottomed wide pan.
2.When water starts bubbling add rice flour and cook on low flame for about 45 mins. Do not mix flour with water. Flour just floats and gets cooked . (You can close the pan, but make sure you leave some space for the steam to escape or else you will end up having overflowing water all around the pan. )
3.After 45 mins, switch off the stove and mix flour with water. Leave it aside closed till it cools down.
4.Knead the flour well and remove any lumps etc and make them into cylindrical balls. These balls should measure one palm length or less than that.
5.Take these balls in a vessel/idli plates and steam cook them for 20 mins.
6.Carefully transfer each ball to
shavige mane/noodles making
machine. Press them to make noodles.
7.You can use
chakli making press/machine
to make small quantity like 2 people for breakfast which I sometimes do it here in Singapore.
8.Properly steamed and cooked noodles will not stick to upper flour of your mouth. Eat a noodle and check, it is sticking, steam the balls for another 10 mins before you press them.
Here is a picture of freshly pressed noodles :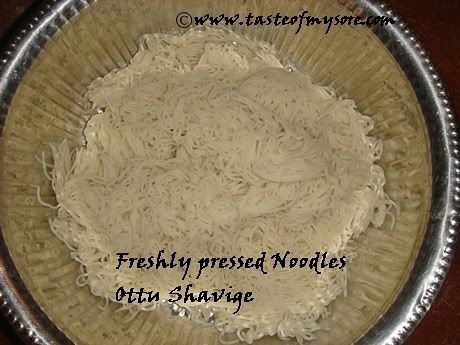 A closer look.......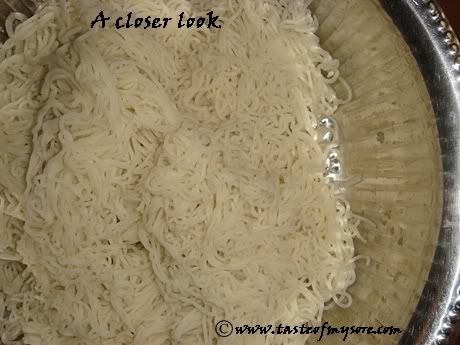 Let these noodles cool down. Now make lemon shavige /sevai just like how you make lemon rice..
Sesame and Jaggery Powder (Sweet)
You need :
White Sesame : 50 g (roast and powder and then measure)
Jaggery :1/2 cup or more according to taste
Roast sesame seeds on low heat in a thick bottomed pan till it turns golden brown.
Break down jaggery into pieces before you put it into your mixer grinder
Grind both to mix. It may turn little pasty as sesame leaves oil if you grind to smooth powder. Keep it a bit coarse. Scoop it out and break down the lumps and spread it over a plate and leave it for 30 mins before you pack them in airtight containers.

You can use roasted peanuts and jaggery to make sweet peanut powder Gasagase Payasa
recipe can be found
here
Lemon Shavige
Oil : 3 tbsp
Mustard seeds : 2 tsp
Peanuts : handful
Kadalebele/chanadal : 1 tbsp
Uddinabele/uraddal : 1tbsp
Turmeric : 1tsp
Green Chillies : 20 (slit vertically)
Curry Leaves : from 4 lines
Heat oil. Add mustard, when it stops popping, add peanuts when Pnuts have turned half brown, add dals and let them turn golden brown. Add turmeric, slit green chillies and currleaves and switch off the stove.
Pour this over plain shavige and add salt, lemon juice, grated fresh coconut, chopped coriander leaves and mix well and serve.

a plate of lemon shavige and Mysore Pak from my dear MIL..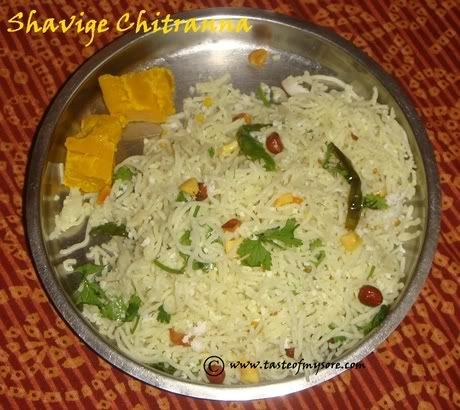 Sending the predominantly yellow dishes on the first plate to FIC yellow hosted by Sunshinemom of tongueticklers blog