A healthy version/cross over of Pongal of south india and tahiri of UP probably...not sure anyways it tasted good and 'nice rice' in it makes it interesting for people who don't eat rice for health reasons. Broken Wheat fortified with lentils and Vegetables :D interesting? It is, if you don't mind chewing ! It is little chewy because of broken wheat.
I packed it for my lunch. It was quite filling. Lately I am very busy with the office work and not able to click pictures of food tried and tasted from other blogs. The below photo was clicked in my office. I used my mobile phone, so photo is not that clear!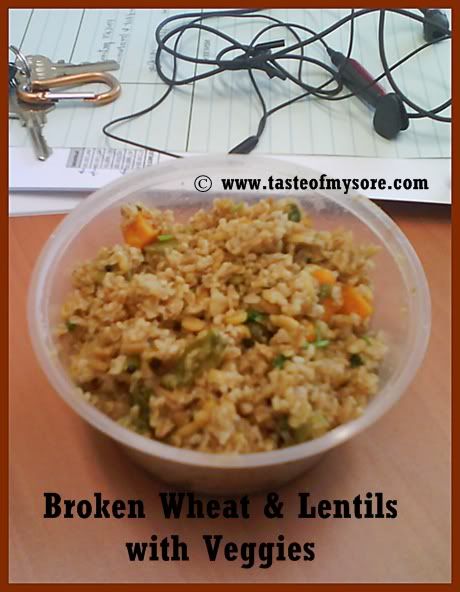 You need the following:
Broken Wheat : 2 cups
Split, deskinned green beans/Hesarubele : 1/2 cup
Mixed Vegetables of your choice : 1 cup
Green Chillies : 10 (slit lengthwise)
Mustard seeds : 1/4 tsp
Oil : 1tbsp
Salt
lemon juice : optional
Roast broken wheat on hot pan till the raw smell of wheat dissappears and you start getting the aroma of roasted wheat. Keep it aside. Roast yellow lentils/Split, deskinned green beans/Hesarubele in the same hot pan till lentils turn golden brown.
Heat oil in a pressure cooker pan. Add mustard seeds when it stops spluttering add green chillies, chopped onions, and all other vegetables along with curry leaves. Sautee for next 2 minutes.
Add in roasted broken wheat, lentils and mix. Add 3.5 cups of water and little salt. Allow the mixture to boil. Check salt and adjust if required. Close the cooker lid and cook for 3 whistles. Set the pressure cooker aside and let it cool.
THIS DISH DOES NOT TASTE GOOD WHEN IT IS HOT
YES, you read it right! Serve an hour
after1 hr
. By this time the broken wheat would have settled down well and it tastes good to eat. If you eat it hot you may feel as though you are eating half cooked wheat! Add lemon juice, mix well and then serve.
I am sending this to
JFI-Wheat hosted
by Roma of Roma's Space. I loved the beautiful wheat poem at Roma's place, so re-posting it here.

One of the awards which Uma has shared says "The award states that-These blogs are exceedingly charming. These kind bloggers aim to find and be friends. They are not interested in self-aggrandizement. Our hope is that when the ribbons of these prizes are cut, even more friendships are propagated. Please give more attention to these writers. Deliver this award to eight bloggers who must choose eight more and include this cleverly-written text into the body of their award."

Award goes to more than 8 people-Uma of Essence of Andhra, Smithaof Kannada Cuisine, Priti of Indian Khanna, Raks of Raks Kitchen, Indrani of Apyayan, Mangala of Recipes 24 by 7, Priyanka of Asan Khana, Sowmya of Creative Saga, Cham of Spice Club, Roma of Roma's Space, Rekha of Plantain Leaf, Rekha and Sharon of The Key Bunch, Jayashree of Samayal Arai, Happy Cook, Sushma of Savi Ruchi, Ashvini of Nanna Adige, Gayatri of My Adige Mane, Asha of Foodies Hope, Sia of Monsoon Spice, Namratha of Finger Licking Food, Shama of My Handicrafts, Sanghi of Sanghis Food Delight, YOSEE of Jalan Jalan, Dibs of Chitra Ammas Kitchen, Deesha of Vegetable Platter, Maya of Konkan World, Shubha of Colors of Nomadic Life, Priya of Priya's Easy nTasty Recipes, Chitra of Ratatoulie,AnuSriram of Chandrabhaga, Aand N of Delectably Yours, Lubna of Kitchen Flavours,Swapna Praveen of Cooking with Swapna, Meera of Enjoy Indian Food, EC of Easy Crafts, Nithya Praveen of Culinary Odyssey, and All those who take precious few minutes to appreciate the food blogged here and try them with full confidence. Kudos to all friends around the blogworld. I will upload the pictures of the award in the awards page in few days time. Till then you all take care,eat helathy and be healthy! :D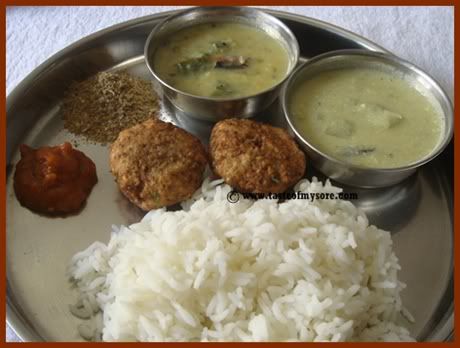 Many thanks to all lovely ladies who shared their tasty recipes. Keep Blogging ladies :)