Gayatri's
Tamarind/Hunase hannu Gojju with Pongal
reminded me of Uddinahittu gojju for Pongal. What else? I remembered it so gotta cook it and I did it :D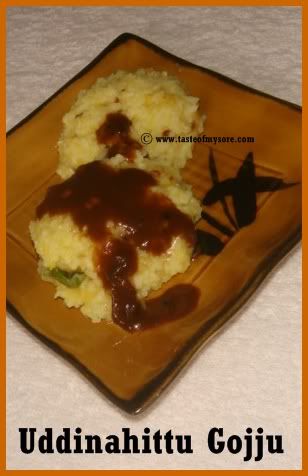 I have already blogged
Uddinahittu recipe
(Click on the word Uddinahittu and Pongal) and
Pongal recipe
. Rest of the recipe for making gojju is here :
Tamarind Juice/Extract : 1/2 cup (thick juice)
Jaggery : 1 big piece
Sambar Pudi
: 1 or 2 tsp (according to your taste)
Salt as required
Uddinahittu : 1 tbsp (Mixed in 4 tbsp of water)
Seasoning : Oil, Asafoetida/hing, mustard -1/8 tsp, urad dal/uddinabele-1/8 tsp, few curry leaves, broken red chillies- 2 pieces
Heat Oil and season the oil by adding ingredients mentioned in the order above.
After adding red chillies, stir for 1 sec and add tamarind extract. Add 150 ml of water, powedered jaggery, slat and bring to boil. Check the liquid and adjust with jaggery or salt if required. Reduce the heat.
Add sambar pudi, uddinahittu mixed with water to the tamarind solution. Keep stirring while you add or else lumps might form while adding.
Bring this mixture to boil. Check the gojju for salt and finally finish off by adding half tsp of chopped coriander leaves ( if you have) and serve hot with Pongal.
Instant Rave & Shavige Idli
We tried instant Rave Shavige Idli/
Rava Semiya Idli
from
Sowmya's blog
and it was given double thumbs up at home! Thanks Sowmya.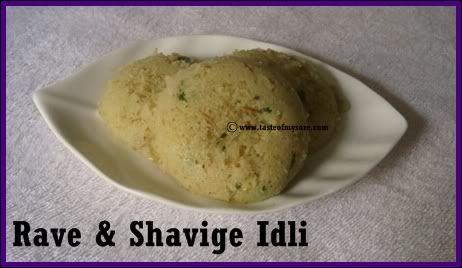 You need the following to make instant Rave & Shavige Idli :
Rave : 1 cup
Shavige/Semiya : 3 tbsp (you can add more if you like)
Sour Curd : 2 cups (1 cup curd+1 cups water is also fine)
Soda bi carbonate : 1/2 tsp (cooking soda)
Chopped Coriander : 2 tsp (optional)
Seasoning :
Oil, hing, mustard, cashewnuts(optional), uddinabele/urad dal, chanadal, curry leaves,
green chili paste
,
Step numbers 1-3 can be made previous day or any day which is convinitnent for you and store it in your refrigerator. If you want to store it outside please do not add coriander leaves to the mixture.
1.Roast rave/rava and shavige/semiya separately till nice aroma emanates in a thick bottomed pan.
2.Season the oil by adding the ingredients mentioned above in the same order. Let cashewnuts and dals brown before adding chilli paste. Add salt and chopped coriander leaves.
3.Add roasted rave and shavige and switch off the stove. Mix the ingredients.
4.Once the above mixture cools down add sour curd and mix well. Leave it aside for 10 minutes.
5. After 10 minutes, you can see a tight mixture of rava and semiya.
6.
Add soda bi carb
and extra water to make a loose batter (don't make it runny ). Adding soda bi carb just before laddling the batter to idli plates makes softer idlis.
7.Laddle/spoon the batter to idli plates and steam the idlis for next 8-10 minutes till they are done.
8.Enjoy hot idlis with your favorite accompaniment.