Pakada kadale made its presence in almost all auspicious occasions. These days it is substituted with peanut brittles which is easily available in stores. We still prefer paakada kadale to chikki. My son love this papum poppu (ehehhee..pakum pappu in telugu) and he devoures it. I don't have any more left except this photograph to share with you all : D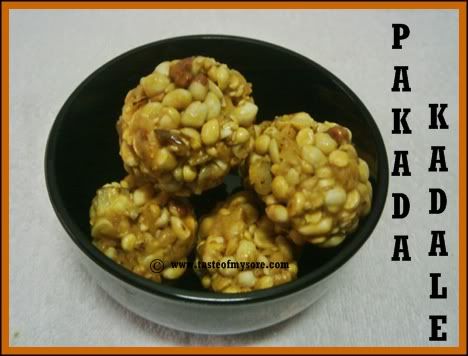 I have not measured any ingredients so I will just give you
approximate measurements
.
peanuts ~3 cups
hurgadale/bhunahua chana/deskinned roasted chickpeas ~ 2tbsp
grated dry coconut ~ 2 tbsp
roasted white sesame seeds ~ 2tbsp
jaggery ~ 1 cup (1 cup holds 100ml water)
ghee ~ 2tsp
a thick plastic sheet.
Method :
1.Dry roast peanuts and deskin them. Roast sesame seeds till they are golden brown. Mix deskinned peanuts, hurgadale,dry coconut, roasted white sesame seeds.
2.Add 3 tbsp water to 1 cup of jaggery and melt it in a thick bottomed pan on low heat. Add a teaspoon of ghee and keep it stirring till the jaggery solution thickens.
3.You can see the color of the jaggery solution deeping. At this stage start adding the peanut mixture to the solution. Keep stirring for next 1-2 mins.
4.Switch off the stove and leave it aside for 3 -4 mins.
5.Grease a thick plastic sheet with ghee and take little mixture in the sheet and make round laddus. The mixture is very hot at this stage CAUTION needed... My mother, granny everyone had great tolerence to heat so they managed to make laddus with greased hands. My sis taught me this shortcut : D which comes handy.
6.Let these laddus cool down completely before you enjoy them.