Pressed Rice/Avalakki is available in atleast 4 different thickness. The thinnest form of them is used to make snack. Crispy, crunchy, spicy arrmm urrmmm arrrmmm...it tastes arrrmmm..urrmmm....yummo with a cup of coffee. It is a filling snack by itself, however we (at home) always find ways to relish it differently.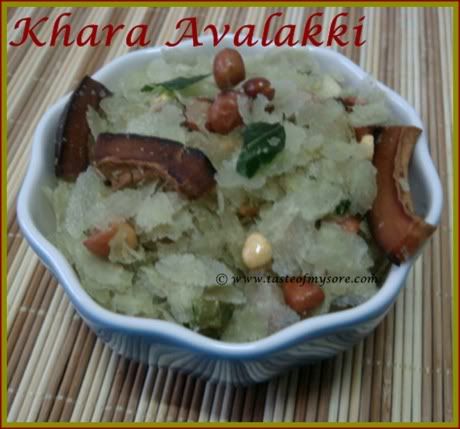 You need the following to make this simple snack :
Oil : 5 tbspMustard Seeds : 1/ tsp
Asafoetida : 1 pinch
Turmeric : 1/2 tsp
Peanuts : Generous Amount (1 cup = 100ml)
Roasted Chickpeas/Hurgadle/pottukadale : Generous Amount (5 tbsp)
Dry Coconut : thinly sliced, as much as you can slice (5 tbsp)
Coriander Seeds : 1/2 tbsp (toasted)
Green Chillies : 12 (chopped into circles)
Curry Leaves : from 2 lines
Salt : requires very less, probably 1 tsp
Paper thin Avalakki/thin poha/thin pressed rice : 200 g
Method :
Heat oil in a thick bottomed pan. Add mustard seeds and let it pop. Add asafoetida/hing
Add turmeric powder, mix and add peanuts. Let peanuts become crisp and red.
Add Roasted chickpeas/hurgadle and thinly sliced dry coconut pieces. Let them brown
Now, throw in coriander seeds give a good stirr and add greedn chillies. Let green chillies become crisp,add curry leaves and salt followed by paper avalakki. Switch off the stove and remove the pan from the stove and put it aside.
Mix avalakki with rest of the ingredients well. Let it cool before you enjoy! This is a awesome snack to carry while you go on tours. It is filling and tasty too. This goes to my event
Meals on Wheels.
Snack
Onions : 1/2 roughly, chopped
Coriander : 1/2 tbsp, chopped
Wet Coconut : 1 tbsp, grated
Lemon Juice : 1tsp
Khara Avalakki (from above recipe) - 2 cups
Mix, onions, coriander, coconut and lemon juice. Add avalakki and give a good stirr. Serve immediately.