I was moved by one of the comments posted on my blog for "
Rice Flour Poori
" post. Kudos to that mother who tries her best to satisfy her 'milk and wheat intolerant' child! After reading this comment I read numerous articles about gluten intolerant children and adults and how much they miss these foods. While reading, I discovered that joldada hittu (Sorghum flour) and akki hittu (rice flour) and few other flours where mixed together to give a delicious pancake. Ting! flashed the idea of making dose!! yippee..I must say it was a hit at home. Since it was instant dosa recipe it made me much happier too. You all can give it a try if you love sorghum flour like us :)
Jolada Dose/Sorghum Flour Crepes or gluten free indian pancakes
You need the following to make :
Bili Jolada Hittu/ White Sorghum Flour
- 2 cups (I had white sorghum flour bought from India so I have used it which is the best, you can use which ever is available at home to try it out)
White Rice Flour
- 3/4 cup
Cornflour
- 1tbsp (optional)
P.S : You can substiute with maida/plain flour for non-gluten free recipe
Salt, water
Seasoning : oil, jeera, broken red chillies, chopped curry leaves
Heat oil and add ingredients in the order mentioned. Add this seasoning to dosa batter and mix.
Mix everything and make a runny batter which resembles pancake batter. Dosa tastes good if you allow the batter to sit aside for atleat half an hour.
Heat a tava/girdle. Rub oil over tava. Pour dosa batter over the tava and spread it in circles with the back of the spoon. When dosa is crisp from bottom turn it over and let it brown(cook) on the other side too.
Remove it to a plate and enjoy with chutney of your choice. I made onion chutney and it was superbly delicious !
Onion Dose :
You can add chopped onions, coriander leaves,
greeen chilli paste
(click on it for recipe) and a teaspoon of grated coconut and leave it overnight in your refrigerator. Next day make dosa as usual for delicious onion dose!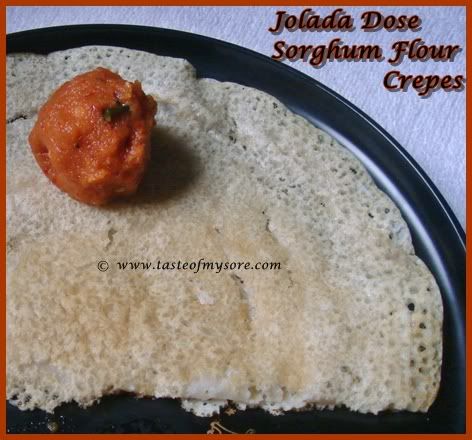 Jolada Dose is going to participate in Padma's Dosa Corner event at Padma's Recipes
.
Other Dosa varieties available on Taste of Mysore
:
Thili Dose/ Rice Flour Dosa -Instant
Mysore Masala Dose/Set Dose
Rave Dose -Instant
Brown Rice Dose