I have been trying various vegeterian bengali dishes from fellow bloggers for SWC-Bengal. One of them we liked was Masoor dal along with Kalakand and Potatoes with Panchphoran. Thanks to Sandeepa of Bongmom's Cookbook for Masoor dal and Kalakand recipes. Visit her
page here
for a detailed recipe.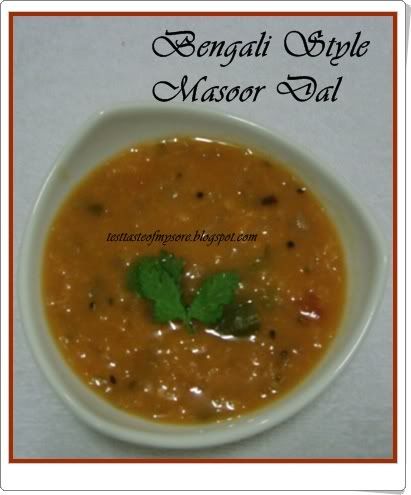 Here is her way of doing it, in-case you are in a hurry...
Masoor Dal or Split Red Lentils- 1 cup washed thoroughly
Onion - 1 red onion medium sized, sliced in thin long slices
Tomato - 1 firm red tomato chopped fine
Green Chilies - 2-3 finely chopped
For Tempering
Panch Phoron or Panch Puran (a Bengali Five Spice Mix) - 1 and ½ tsp
For Garnish
Lime Juice - 4 tsp of fresh lime juice
Coriander Leaves- 3-4 sprigs
Oil
Salt - according to taste
Sugar (I did not use it)
Turmeric Powder - ½ tsp
How She Did It :
P
ressure Cook the 1 cup Masur Dal with 2 and ½ cups of water and a pinch of turmeric. Once it is cooked mix it well with a whisk. The time to cook depends on your cooker.
H
eat oil and add the phoron, or as we say temper with Panch Phoron.
A
dd the finely sliced onions and fry till they turn pink in color. Add the chopped green chillies.
A
dd the chopped tomatoes and cook till they become a fine pulp
A
dd the previously cooked dal.
M
ix well.
A
dd salt, sugar and about 3-4 cups of water. If you feel you need to add more water do so.
C
ook till you hear a nice bubbling sound. Remember to stir infrequently during this process.
A
lso continue cook till the thickness of the dal is according to your liking
G
arnish with chopped coriander leaves and lime juice
This goes to
SWC-West Bengal
hosted by me on this blog.