As we all know Adai is native to Tamilnadu. This 'Adai dosa' of Tamilnadu was given a make over when it entered Karnataka :D esp in the hands of my MIL. She turned it to 'rotti', flavored it with pudina, coconut and added green chillies and made rottis. Result of this is Pudina flavored Adai Rotti (PFAR). This was another favorite (god knows how many fav's I have listed down... :P) at my in-law's place.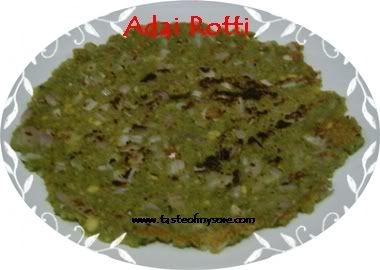 One rotti is enough to keep your hunger at bay for next 4 hrs. Pudina adds nice flavor to rotti and mixed dals of adai gives superb taste to it. We all love it.
Pudina Flavored Adai Rotti :
(Use same cup for measuring all ingredients)
You need :
Kadalebele/Chanadal : 1/4 cup
Togaribele/Toordal : 2tbsp
Hesarubele/dhuli moong dal : 2tbsp
Uddinabele/Urad dal : 1tsp
Rice : 1cup
Pudina/Mint : 1.5cups
fresh/wet coconut grated : 1/2 cup
Green Chillies : 8 (8 chillies makes rotti very spicy, so adjust according to your taste)
salt
Onions : 2 Chopped
Soak Rice separately. Mix all bele/dal's and soak them. Soak for about 4hrs.
Remove water from rice and dal and
grind
them separately using very little water. Let the mixture be
coarse
, do not grind it like dosa batter.
Grind Pudina, coconut and green chillies to a smooth paste. Mix it with rice and lentil batter and add salt.
Refrigerate
the dough for 1 -2 hrs.
Remove the dough from refrigerator add chopped onions. Mix.
Smear little oil on non-stick paper. Take a handful of dough and pat it into 1/2" thick circle.
Transfer this to hot tava with rotti side facing the tava. Peel off the paper.
Roast rotti on both sides till is red.
Enjoy Hot! Eat it with ghee.
Note:
Make only as many as you want. You can refrigerate the dough and use whenever you want.
I am a huge fan of rottis. We had a
rhyme in Kannada on rotti
...
Click here to watch the Video
"Rotti Angadi Kittappa
Nangondu Rotti Tattappa
Putani Rotti, dundage tatti, Kempage sutta tarappa..
Rotti angadi kittappa bisi bisi rotti tarappa.."
A little girl is asking the rotti shopkeeper Kittappa to make her a small and neat round rotti which is roasted red and she would like to eat it hot!
There are many versions of the rhyme and the above lines are what I remember. You tube video has a different script :)
PFAR and Chutney Rotti goes to
SunshineMom
who is celebrating
GREEN
dishes this month.