Chirumaalu/ Kusuri ( 'chirumaalu' is a colloquial name) payasa is a tasty treat. Kusuri is made of maida flour and is mostly found in Arya Vysya Weddings. We call Chirumaalu as Kusuri at home. I googled for Chirumaalu and Kusuri and had a good time laughing over the results. Chirumaalu did not yield any results, Kusuri yielded all Japanese references.
Arya Vysya's
history trace back to
Penugonda
, Andhra Pradesh, birth place of godess Vasavi. Their language or terminologies remain in Telugu and its influence lingers despite their settlement in different parts of India. Wedding customs of Vysya's change from place to place, regional influence being one of the possible factor for it. A day before wedding, bride and bridegroom parents exchange snacks, sweets, keepsake decorative items (hand made or store bought), carved dry coconut (beautiful art which requires lots of patience) and many more things during an engagement ceremony. Few days before marriage we all sit together to make toy bananas, oranges, etc all fruits, all possible vegetables from maida flour. It is sundried and painted. They are packed nicely and arranged in beautiful plates for exchanging ;) The more you have on your side the more you have to show off ;) I will try to source few photos of wedding next time I visit India. Kusuri is a part of such exchange.
I did not know about this payasam untill my sister enlightened me about it. My sister's MIL made Chirumaalu specially for me. I was so honored when my sister handed over the packet of Chirumaalu to me.
Making Kusuri is an art which only takes your time and tests your interest to do it. Once you taste the payasa made of them you will thank yourself for spending your time on it. Below is the picture of Kusuri.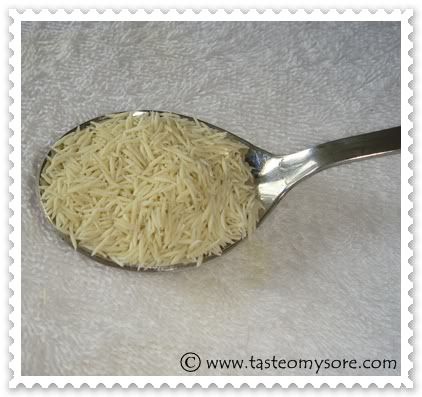 It is a simple payasam, if you have the above raw material/Kusuri. Here is how you can make it for yourself :

Chirumaalu/Kusuri :
Maida Flour : 2 tbsp
Milk: 2-4 tsp
Mix both to make a stiff dough. You may get a small gooseberry size dough.
Pinch half a mustard size dough and hold between you thumb and forefinger.
Press to make a disc and then roll it to make a cigar.Collect all of them in a plate. Remember to put them apart or else they may stick to each other.
Sundry it till they are crisp.
How to test the crispiness :
If you hold a teaspoon of kusuri in you fist and shake it you should be able to hear clinking sound which indicates crispiness of the product.
Chirumaalu/Kusuri Payasam
Chirumaalu/Kusuri : 1 tbsp (quantity as shown in the picture above)
Thick Milk : 4 cups
You can use evaporated milk, but plain milk is more tastier for some reason.
Sugar : 4tbsp
Ghee and dry fruits
1. Heat one tbsp of ghee in a non stick pan and fry dry fruits. Fry raisins and cashews separately. Raisins plump and cashews brown in while you fry.
2. Drain the dryfruits to a cup.
3. Add Chirumaalu/Kusuri to the same pan and fry it with the left over ghee till Chirumaalu/Kusuri turns reddish brown.
4. Add 4 cups of milk and bring it to boil. Let Chirumaalu/Kusuri get cooked in the milk. Chirumaalu/Kusuri get soft when they are cooked (similar to shavige/sevai)
5. Once Chirumaalu/Kusuri is cooked, add sugar and continue to boil till sugar is dissolved well and milk thickens. Switch off the stove. Garnish with fried dry fruits and serve hot. Chilled Payasam also tastes yummy.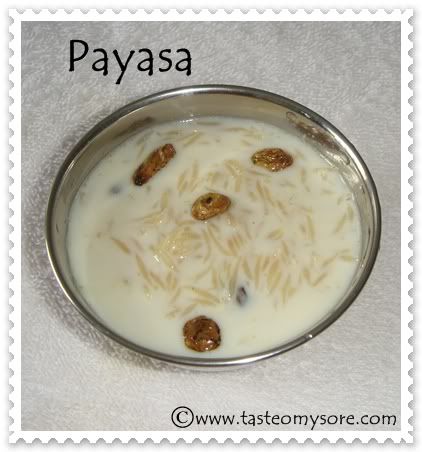 This also goes to
Aparna of My Diverse Kitchen
for her
Sweet Celebrations