Now, this is no parantha :P not that I will stop you from saying it, if you want to call it Parantha. It is not parantha for me because I (we) knew it from the days before we realised that it was called Parantha elsewhere :) :) , so it is always ಈರುಳ್ಳಿ ಚಪಾತಿ aka onion chapathi for us. So here you go with the recipe :
Wheat Flour : 2 cups (1 cup = 100ml)
Onion : 1 big/small (adjust the quantity based on your love towards onion)
Coriander leaves : 2 tbsp (chopped)
Curry leaves : 1tbsp (chopped)
Green Chilli paste : 1 tbsp (adjust according to spiciness required)
Cumin : 1tsp
Oil : 1tbsp
Salt
water to mix the dough.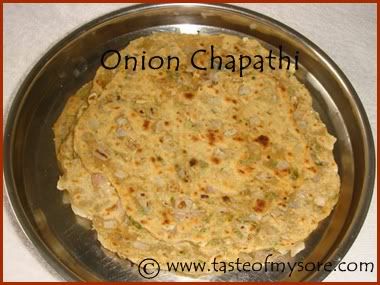 Mix all the ingredients to make a stiff dough. No need to keep it for 15 mins ;)
Roll them into circles, and toast them over hot tava/girdle. You can use little oil to fry them.
No accompaniment is needed if you have added salt and chilli paste in required qty. So taste the dough before you make chapathis.
Easy Peasy ! A little change to your routine chapathis :)
Sending this simple vegan onion chapathi to Suganya who is hosting
Vegan Ventures -2