Green tomato chutney is tangy to eat and simple to make. Suggested to serve along with dal (cooked and seasoned lentils) as both of them compliment well. This recipe was from my hostel cooks who simply served us few simple but tasty items........
You need :
Unripe tomatoes : 5
Green Chillies : 3 (adjust according to your taste)
Ginger : 1tsp /1" piece
Garlic : 1 pod (I use 1 coz the pod size is big)
Coriander Leaves and stem : 3tbsp (washed and chopped)
Salt
Oil : 1/2 tsp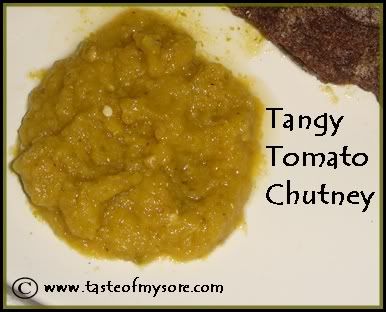 1.Heat Oil in a non stick pan. Add ginger, garlic sauteed for 15 sec, next goes green chillies and unripe tomatoes. Sauteed till tomatoes are soft.
2.Transfer the contents of the pan to a plate. Let it cool.
3.Blend it to a smooth paste using mixer grinder.
4.Remove and serve
This goes to Veda Iyengar's Challenge event :