Raddish in Huli/Sambar, Chutney, Parantha, Mosaru Sasive/Raita, Chutney are few dishes which we like to eat. Here is a tasty chutney which matches well with chapthi or rice. I will be posting few vegetable chutneys in line over next few days/weeks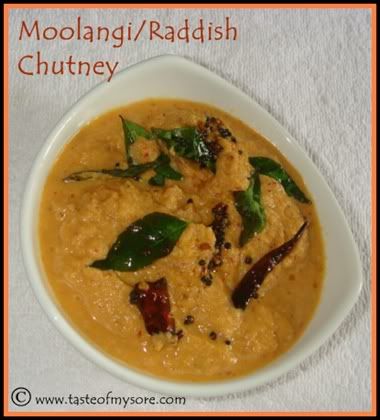 You need the following for chutney :
Long white Raddish : 10 small sized (clean, scrape and chop into 2" thick discs)
Oil : 2 tsp
Kadale poppu/Roasted gram : 1tbsp (you can use chana dal as an alternative)
Red Chillies : 5 (adjust according to taste)
Grated Wet Coconut : 2 tbsp
Cumin/Jeera :10 grains
Tamarind Extract : 1 tbsp
Salt
Tampering/Seasoning
Oil, mustard, redchillies,uddinabele/urad dal (optional), curry leaves
Method:
1. Heat 1tsp of oil in a non stick pan and sautee Raddish till they become pale n soft. You may want to cover the lid in between and leave it which helps a lot esp while cooking consciously. This may take 3-5 mins
2. Remove Raddish to a plate and let it cool. Dry roast red chillies and jeera in a pan. If you are using chana dal remember to fry it before using.
3. Take sauteed raddish, roasted red chillies, jeera, salt, tamarind extract, kadalepoppu in a blender/mixer grinder and grind it to make a smooth paste.
4. Chutney is ready. If you want chunky chutney you may add finely cut pieces of raddish to chutney.
5. Do tampering/tadka and pour over chutney. Serve with your favorite maincourse.