This particular Cucumber salad was my taatha's (grandfather) favorite. He had difficulty in chewing so mother made them with cucumber tirulu (center part of cucumber which has seeds ) and he devored it. At the age of 75 he loved raagi mudde rotti (coming up soon), cucumber salad and tomato salad. Old age and Childhood have such a big gap but behaviour of humans in those two stages are very similar. If childhood has innocence, old age has tiredness :( . It was a challenge to my mother to feed to my taatha, mainly because he was diabetic and he craved for things he was restricted from eating and added to the complication taatha did not have many teeth left :( :( . He often wanted spicy things to rejuvinate his taste buds, and sometimes very plain stuff...and mudde rotti and salad gave him satisfaction for his cravings. Salt biscuits were his favorite tea time snack.. Ajja (grandfather) we miss you!
I remember very few dishes which she made for him and they fit the Challenge event hosted by Veda so much, I thought of posting them here ...
Southekayi Khara / Cucumber Salad
This salad is made often at home and it is tangy, spicy and a perfect salad for me :) You can make them with available ingredients at home in about less than 10 mins (if u are fast enough in cutting and assembling things)
You need the following : (which feeds 4 people)
Cucumber : 2 big (peeled, washed and cut into 1" cubes)
Green Chilli Paste : 1tbsp (adjust according to the spice levels)
Lemon Juice : from 1 medium size lemon (save the rind, you can use it as a brush to chilli paste for tomato salad)
Salt
Coriander leaves : 1tbsp (Chopped)
Mix and toss all ingredients together and taste the salad, adjust the spice levels and serve immediately.
You can see spicy cucumber juice at the bottom of the salad. Drink it and tell how you felt :-)
Another version of Southekayi Khara and Tomato Masala can be found
here and here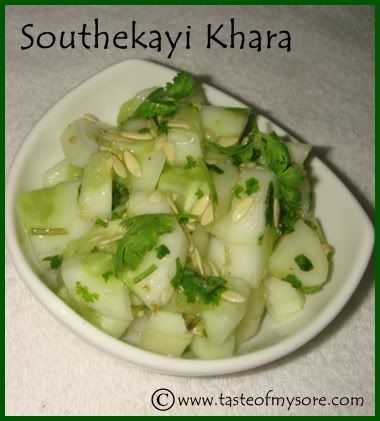 Tomato Salad
You need the following :
Tomato : 1 big
Green Chilli Paste : 1/2 tsp
salt
Khara Mandakki (see the recipe
here
)
Cut tomato slices and arrange them on a plate. Brush chilli paste on tomato. Sprinkle little salt. Top with khara mandakki and serve. Soft Tomatoes and crunchy puffed rice compliment well :) and they are super healthy too..
Khara Mandakki (crispy puffed rice) without peanuts
Khara mandakki I posted before had peanuts and they did not qualify for Challenge. So, this time around I made mandakki without peanuts just for the event. The recipe link is
here
just delete peanuts and roasted gram from the recipe. You can use dry red chillies instead of green chillies.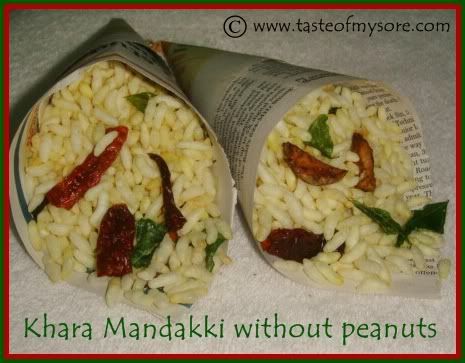 Khara Aloogadde (Spicy Potatoes)
You can see the recipe
here