We always called Gundponglu as "Dosa Balls" :D They were made using dosa batter by my mom. Whenever we nagged about having 'dose again' she made dosa in a different shape! Clever mom :) She made separate batter for gundponglu some times to make them soft and spongy. Gundponglu are best savored hot hot right out of the pan with some spicy chutney. We love onion gundponglu more than plain ones. You can add grated veggies, and make your own version of these dosa balls.
You need the following to make gundponglu :
Parboiled Rice : 3 cups + Fenugreek seeds/menthe kaalu - 1/2 tsp
deskinned black lentils/uddinabele/uraddal : 1/2 cup
__________________________________________
Pressed Rice /Avalakki : 1/2 cup
OR
Puffed Rice/Mandakki/Puri : 1.5 cup
___________________________________________
1.Soak all 3 ingredients separately for 5 hrs and grind them separately. Mix all of them and pour them in a airtight container and set it aside to ferment for next 10-12 hrs. You can add a tsp of salt to the batter before you set it aside for fermentation.
2.Let the batter be little watery. Water helps fermentation process. Do not make very tight dough.
3.Spoon required amount of fermented batter to a separate vessel and add salt and give a good mix. If water is required to make the batter thin you may add it.
4. Heat the gundponglu henchu/tava and spoon the batter into the little wells of the tava.
5. After a min, turnover paddu using the wooden stick .
6. These days we get non-stick paddu tava so all its accessories comes with it. If you are using cast iron tava use a steel spoon to turn over. Once both the sides are browned, remove from the tava and serve hot with chutney of your choice.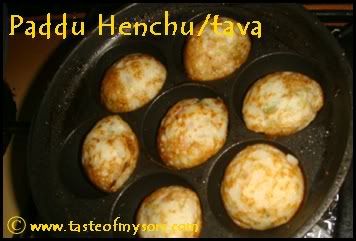 For Onion Paddu / Gundponglu :
Chopped Onion , Chopped coriander leaves , Green Chilli paste, salt. Add all these to the paddu batter and mix. Make paddu in the same way as explained above.