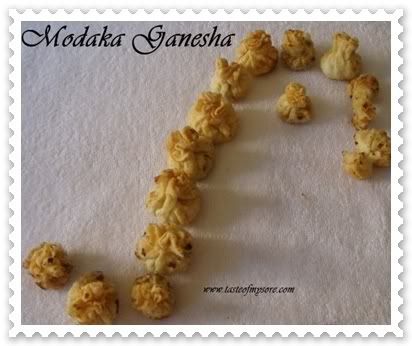 It was/is raining modak in blogworld. I thought of adding them to my recipe list too. There ae two ways of making modaks..a steamed modak and a deep fried modak.. You can see steamed modak on Taste of Mysore
here..
Here is a deepfried Modak for all of you. We need the following ingredients to make deepfried Modaks..
Skin/Outer Layer :
Chiroti rava/Fine cream of wheat/fine semolina - 1cup
salt -small pinch
water
Mix everything to make a tight dough. Dough resembles chapathi dough you make in terms of consistency.
Alternative way to make skin :
Maida/All Pupose flour : 1.5cups
Ghee or Vanaspathi - 3tbsp
Chilled
Water/Milk - as required
Make a tight dough and use it to make the skin of Modaka . It is very imortant to use chilled water or alternatively
Chill the dough and use it immediately.
Filling :
grated dry coconut -1cup
Pressed rice/Poha - 1tbsp
grated jaggery-3tbsp
cashewnuts -1tbsp
sesame seeds-1 tsp
Gasagase/Poppy seeds/Posta/Khus Khus -1tsp
Mix everything and stuff it inside the modaka..
Roll out the skin to make circles and stuff the filling and lock them to make your desired shape. Deep fry them in hot oil and offer them to Ganesha and late enjoy them.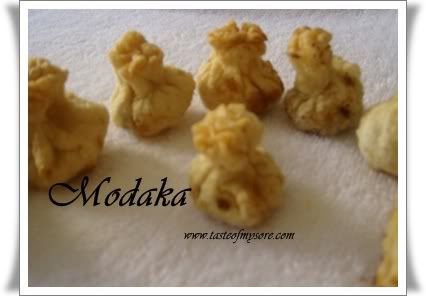 Kaayi Holige and Steamed Kadubu along with deep fried modaka goes to Purva's
Krishna-Ganesh Festive
Event..
Kaayi Holige
: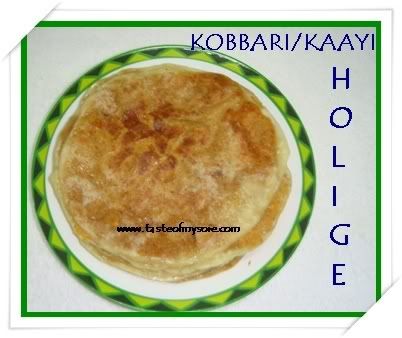 Kadubu :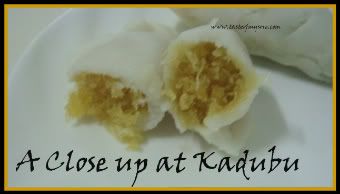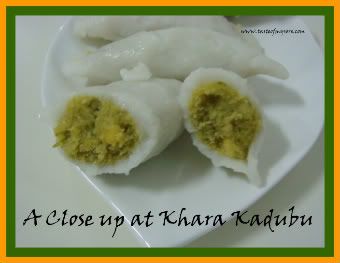 All of them for :