It feels so good when you re-visit a well written recipe. When we document a procedure there is consistency in the taste that is achieved atleast this is one of my greatest strengths after I started blogging my recipes. Also improvising your recipes from lessons learned from the past, tips from bloghopping, etc are few other advantages to mention..
Krishnasthami and Avalakki has been synonymous to us for many years. This time a re-visit to
Gojjuavalakki
was a pleasure with new batch of
saarina powder!
Mosaravalakki is a altime favorite of my hubby, so combined them for breakfast :)
Gojjuavalakki :
Click here to read the recipe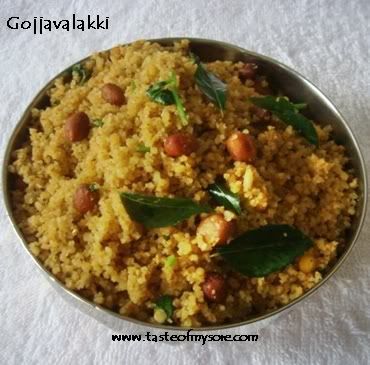 Mosaruavalakki
Mosaru=Curd/Yogurt
Avalakki=Pressed Rice/Beaten Rice/Rice flakes/Poha/..
It is a very easy to make preparation. Soak pressed rice for 15 mins or till it is soft. Remove the water from it. Mix thick curd and salt. Make tampering using hot oil, mustard seeds, uraddal/split black lentils, curry leaves and asafoetida/hing . Pour the tampering over avalakki. Garnish with 1/2tsp of grated wet/fresh coconut and chopped coriander leaves. Done!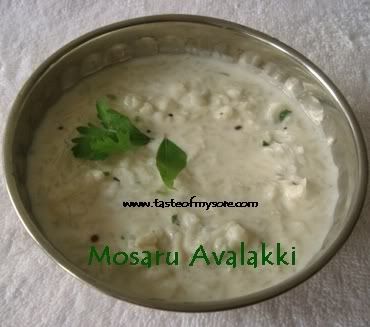 Mandakki (Usli) Oggarane/Mandalu Oggarane/Soosla/ with Menasinakayi Bonda/Chilli Bajji/Deepfried Peppers
To make Mandakki Oggarane read the recipe
here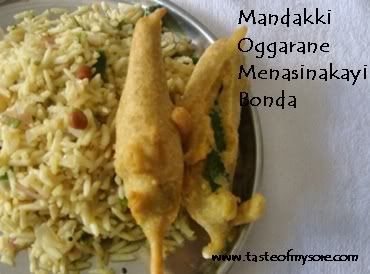 This time around I tried
Asha's
way of making bonda flour and it came out too good! Thanks Ashakka for sharing your recipe. Ashakka's batter recipe for you here :
BATTER:
1 Cup Besan Flour
2 tbsp Rice Flour
1 tbsp Corn Starch to make it crispy and thick
Pinch of Paprika for color
Turmeric
Cilantro
1/4 tsp Baking Soda
1/4 tsp Cumin Pd
Enough water
Mix everything to make little thick but soft mixture and dip peppers and coat them. Now deep fry these coated peppers in hot oil to get yummilicious bondas!
isn't it super cool ? blog and learn, blog and improvise :)