Kadalekaalu, Hesarukaalu, alasandekaalu guggri is very common prasad (neivedya/offering) item during Navratri in the evening prayers. You visit any house which displays it's doll house you have 50% chances of getting this dish as a take away prasada item along with a fruit during Navaratri.
It is a very simple and tasy dish which goes well with chapathi or rice. All you need to do is soak one cup of hesarukaalu/mung beans for about 4 hrs and pressure cook it for 1 whistle with little water and salt. Decant the water from kaalu.
tampering
: Oil, mustard seeds, uddinabele/uraddal, green chillies cut into rounds from 2 chillies, curry leaves, hing . heat oil in a wide pan and add the above ingredients in the order mentioned. Let urad dal turn brown before you add chillies.
Add cooked beans and salt. Mix well. Swith off the stove. Do the garnishing and serve hot.
garnishing
: Chopped coriander leaves and freshly grated coconut
P.S. The picture shown has onions too, which is a optional addition.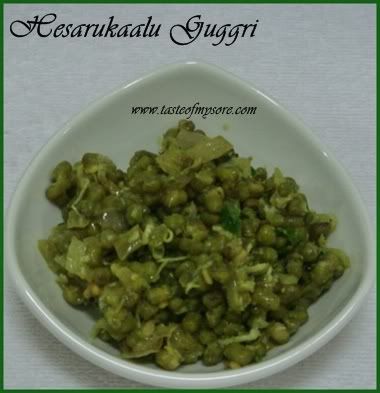 I was revisiting few of my old recipes and did little modification to one of them, so I thought of re-publishing it.
Vadapi and Menasinakayi Gojju (Rice Flour Pooris and Chilli Gojju)
I added 2 tbsp of maida flour to 1.5 cups of rice flour and the result was good. This tip is particulary useful when you are staying outside India and do not get good quality rice flour or you are buying a store bought flour.
If you are using fresh rice flour (fresh from the mill) this adjustment is not required at all. Just use lukewarm water to mix the dough.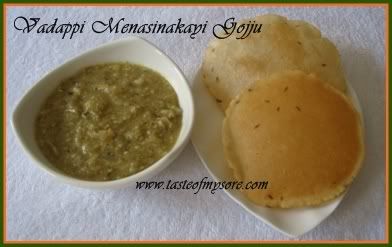 Kalakand: Tried and Tasted
We were very much impressed with the results of Kalakand, so I made a plateful of it for a dear friend who liked it as much as we did. Thank you Cham and BongMom.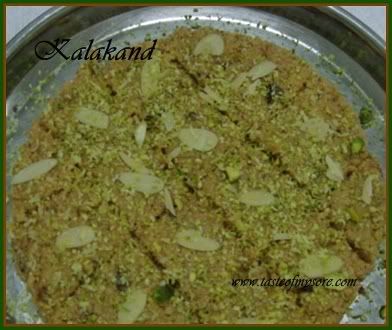 Hesarukaalu guggri goes to Festive Food Navaratri hosted by me at this blog. Do not forget to send in your entries before 11 Oct 2008. For more details refer to this post