||ya kundendu tushara haara dhavala
ya shubra vastravrutha
ya veena varadanda mandithakara
ya swetha padmasana
ya brahmachyutha prabruthivihi devaisadapoojitha
samampaathu saraswathi bhagawathi nishyesha jaadyapaha ||
It is seventh day of Navaratri and today is Saraswathi Pooja. Mysore is all glittering with lights in the evening and Devaraja Market is full of Shevathige Hoovu, Chendu hoovu, Mallige, Kanakambara, and loads of varieties of fruits. Temple bells start tinkling from as early as 5AM in the morning and women need no alarm if they are located somewhere nearby the temple. Melodious suprabhata is enough to wake up them up and also rest of them who are busy snoring... I miss Mysore......

We gladly gave our text books which we thought is a difficult subject of the year and every time Maths text book would sit on the pile..Mother placed Godess Sarawathi statue on the pile of books. We thought that by keeping books there the subject would be easier :P what a stupidity..I realise it now ahahaha..that was the innocence of childhood..

Few Pictures of Mysore Dasara Celebrations.... :
I made simple Vermicilli Burfi for the occasion which is fast to make(about 15 mins) and tasty to eat..so here it is ......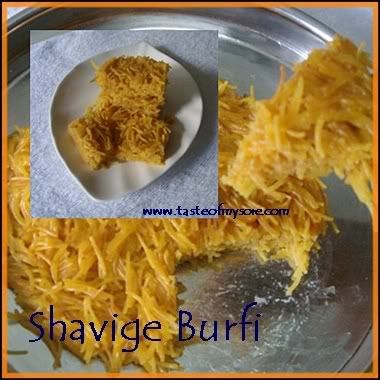 What you need :
Bambino vermicilli : 1 cup (fried till it is golden brown in little ghee)
Milk : 1cup
Food Color : 1/2 pinch (orange)
Sugar : 3/4 cup (Use same cup to measure all ingredients)
Ghee to grease the plate.
1.Measure 1 cup milk and heat the milk, when it starts boiling add roasted vermicilli and cook it. 2. When Vermicilli is half cooked, add food color, sugar and stir.
3. When sugar is added the mixture gets diluted..so let the mixture get thickened and in that process Vermicilli is also cooked properly.
4. Transfer this thick mixture to a pre greased plate and set it aside for 5 mins or till it is properly set.
5. Cut them into squares and enjoy them.
Hosthilu Pooje
/Offering prayers to threshold of the house is common in South Indian homes. During this time of Dasara..threshold is worshiped by keeping a pair of Turmeric and Vermillion dots on each side of threshold.

Apart from worshiping the Threshold of the house these dots has always helped me to keep track of the number of days of Navaratri..You can find 7 pairs of dots here in the picture which means it is the 7th day of Navaratri which is today..
I have always seen my amma doing it and it was we children who would compete to make those pair of dots on each side of the threshold. It was fun in childhood and later I think we forgot to ask her what it meant exactly !
Gombe Mane / Doll House
This is the first time I have made doll house and Akash enjoyed it. That was the main purpose of the Doll House making :) I later learned from Dibs of
Chitra Amma's Kitchen
the exact way of arranging a doll house. She has a very informative post about it, do take some time to visit her and read it.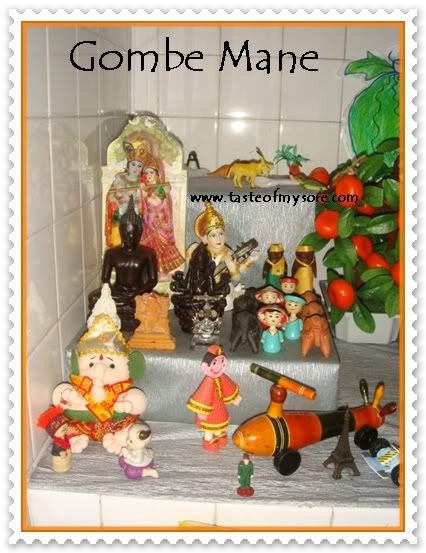 The uniqueness of Mysore side Gombe Mane is about "Pattada Gombe" which when literally translated mean Royal Dolls or in other ways Raja and Rani Dolls. Elephants, court members of the court are also displayed if the house has them. Otherwise these Paatada Gombe is a must to keep dolls during this occassion. All these years I used to keep only these dolls and rest of them were not displayed at all which is fine according to my mother.
Again, I am not very sure about the significance of these Raja Rani dolls..so Readers if you know the reason please leave a comment.
The aeroplane which you are seeing in the picture is from Channapattana. Channapattana is famous for making wooden dolls and is also known as
Bombegala Ooru
(city of dolls/toys)
As children we enjoyed celebrating this festival and now as grown-up parent I am enjoying teaching it to my younger one. I am sure you all are enjoying Dasara as much as we are enjoying it.
The entire post goes to Navaratri Festive Food event on Taste of Mysore. The last date for sending the entries is 11 Oct 2008. For a detailed post click
here
This post also goes to
Festival-Jihva
hosted by Srivalli of Cooking4allSeasons. Jihva is a brain child of Indira of Mahanandi.