These days it rains almost everyday in Singapore. Sometimes it feels good but at times it is irritating. On one of those 'feel good' days I made these plantain fritters. A simple bajji recipe which is known to many, still I thought it is good to keep it on my blog ...
Not a very well taken picture, but I thought of showing it anyway :D
Preparation Note
:
Cut plantains and soak them in water for about 15 mins.
You need these for bajji batter
Kadalehittu/Besan/Gram Flour - 1cup (1 cup holds 100ml of water)
Rice Flour - 1 tbsp
Red Chilli Powder : 2 tsp (adjust accordingly)
Salt
1.Mix all the dry ingredients. Add water and make loose batter which resembles dosa batter.
2.You Need Oil for frying. Heat oil in a thick bottomed pan. When it is hot, dip plantains in batter and transfer them to hot oil. Fry them on both sides till they turn golden brown. Heat oil on a low flame. If oil is very hot, switch off the stove and allow it to cool for a while, re heat it on low flame and fry bajjis.
If bajjis are fried in very hot oil, the plantain inside will not be cooked properly.
3.Pudhina Chutney recipe is
here
(click on here)
Ramya of Ramya's Kitchen has passed me '
Hardworking Food Blogger
' award, thanks Ramya.
Sudeshna of Bengali Cuisine is hosting a "
Satisfy your Sweet Tooth
" event.
Godhi Huggi
and
Shavige Paysa
have reached her to take part in the event.
Aarthi of
Nalabhagam
blog is hosting "
Sapadu Ready
" event on her blog. One of my Navaratri day Neivedyam platter goes to Aarthi..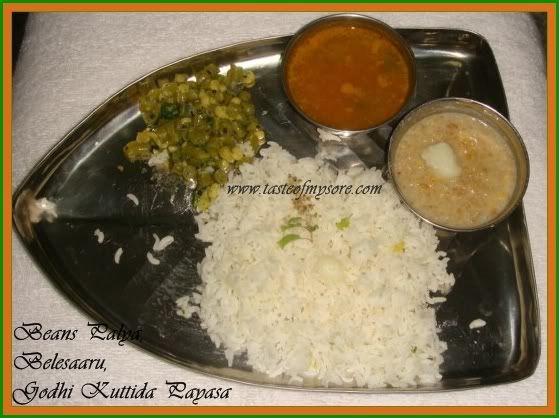 The recipe to
Godhi Kuttida Payasa/Godhi Huggi
,
Bele Saaru
, is already blogged on TOM. You click on respective items above for recipe links. You can search for your recipes in
Recipe List
tab on the TOM page.
I loved this Chanadal and Veggie combination from Sia's blog. So I adapted it to make Kadalebele/Chanadal and Beans Palya.
Kadalebele & Beans Palya:
Preparation Note : Soak Kadalebele/Chanadal for atleast 1/2 hr before you pressure cook.
Here is the recipe :
1.Pressure cook Kadalebele/Chanadal and Beans in little water. Remove excess water from it.
In a blender/mixer grinder coarse grind greenchillies, coconut, jeerige/cumin/jeera and salt.
2.Heat a tsp of oil in a wide pan and add few seeds of mustard. When mustard stops crackling, add 1/2 tsp or less uddinabele/urad dal and fry till it turns golden brown.
3.Add the coarsely ground chilli coconut mixture, and chanadal and beans and stir to mix. Keep stirring till it is warm/hot.
4.Remove the pan from the stove and serve hot with rice.
Another platter for "Sapadu Ready"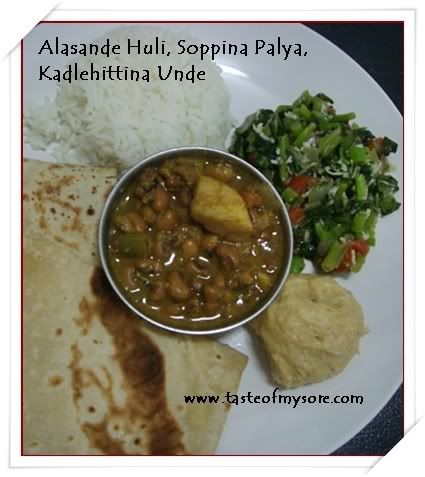 All recipes of the above platter can be found
here
(Click on the word 'here')
One more ...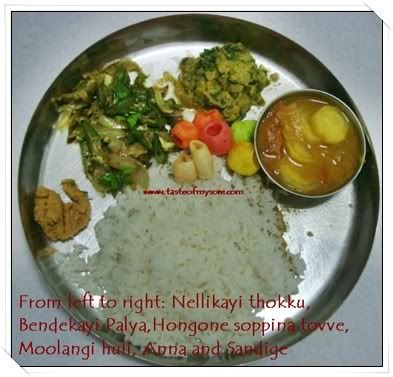 All recipes can be found
here
(Click on the word 'here')
another one ...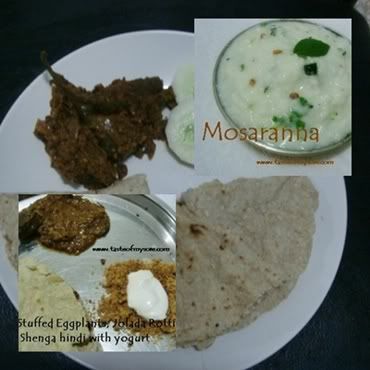 All recipes can be found
here
(Click on the word 'here')
These are my entries for "Sapadu Ready" from Taste of Mysore. You all have a great day ahead......