I have not observed any particular season here. When it rains continuously for 2 days it is rainy season, if it is hot, dry and sweaty for a week it is summer for me n family. Winter is something my son has experienced and we have sort of 'forgotten', unless we plan our vacation to India in the month of December or January. On one such 'hot, dry and sweaty' Sunday I made this Almond Pista Kulfi which we all liked. I thought of sharing it with you all.
You need the following :
Evaporated Milk : 1 tin
Home made malai/cream : 2tbsp ( scoop out the thick cream which is formed when you heat the milk)
Sugar : 5 tbsp
Agar Agar : 1tbsp
warm water to dissolve
Almond and Pista coarsely ground : 3 tbsp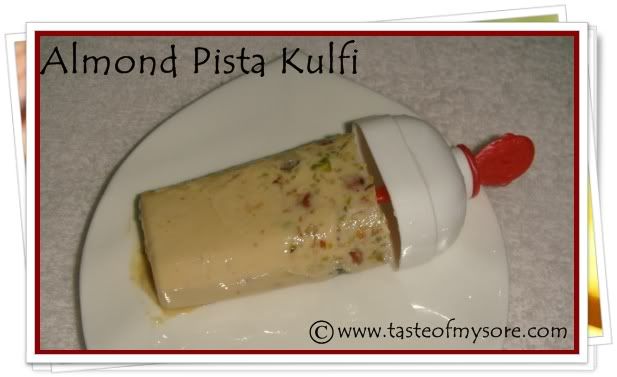 Method :
1. Dissolve agar agar in warm water.
2. Beat malai/cream and make it homogenous.
2. Take evaporated milk in a vessel, add malai/cream sugar and warm the milk to dissolve sugar.
3. Add dissolved agar agar water to it and mix.
4. Switch off the stove and let the milk come to room temparature (25 degree C)
5. Add chopped nuts, mix and pour them to kulfi moulds.
6. Refrigerate for 12 hrs before you serve them.
Note : If more (2tbsp) agar agar is added a softer kulfi is obtained.
You can find Kesar Mango Kulfi on
Cooking Station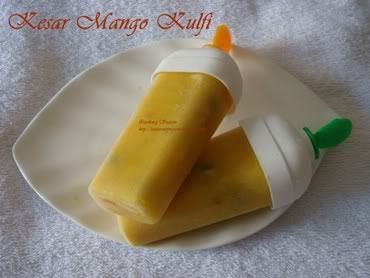 Enjoy it!!!!!!!!!!!