I am not a baker
I don't have to write this anymore! yippee..I jumped and danced with joy when my cake turned out perfect! I was suddenly as young as my son in celebrating the joy of near to perfect baking. 2 weeks before I baked Soumya's
Eggless Orange Bread
and it had turned out good, now that gave me enough strength to try out Eggless Choclate Cake. The recipe was from my dear friend
Nupur
.Thanks Nupur for a foolproof recipe, Cake was lipsmacking. My dear hubby does not like choclate cake and I was the sole owner for the whole cake. Akash ate a piece of cake and asked me give him a cake with cream topping :( !! he suddenly remembered his BEN10 birthday cake. Never mind la! I can eat more ;) I said to myself and helped generously to the cake.
A ton thanks to hubby who ate experimented cakes which I baked before which were ......don't have to mention yeah..so he has great patience !!
:D
A look at Sowmya's Tried and Tasted Yummy
Orange flavored cake
Read the method if you are a dummy like me to baking, or else you can just eye around the ingredients!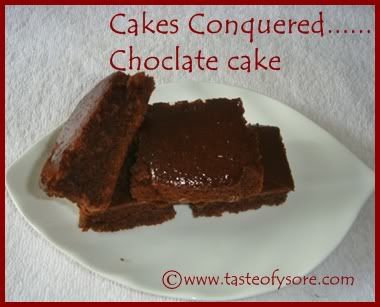 Here is the original recipe from Nupur :
Dry Ingredients:
Wheat Flour : 1cup
Maida : 1 cup
Brown Sugar : 1.5 cups (if you want too sweet, u can use 2 cups)
Cocoa Powder : 3tbsp
Baking Powder : 1.5tsp
Baking Soda : 1/2 tsp
Wet Ingredients:
Semi Sweet Choclate melted : 1/2 cup
Banana : 1/2 (mashed)
Sour Cream : 1/2 cup
Unsalted Butter : 4 tbsp
Vanilla Essence : 1tsp
tweaked recipe.......
1Cup holds100ml of water.
Dry Ingredients:
Self Raising Flour : 2cups
Brown Sugar : 1.5 Cups (Powdered)
Cocoa Powder : 3tbsp
Baking Powder : 1.5tsp
Baking Soda : 1/2 tsp
Wet Ingredients :
Sunflower Oil : 1/2 cup
Thick Curds/yogurt : 1/2 cup
Vanilla Essence : 1/2 tsp
Milk: 1 cup
Few rules of thumb :
1.Measure ingredients appropriately
2.Beat in one direction
3.Emulsify the liquids properly by beating in one direction
Short cut for emulsification :
I do not have a hand blender which made me think that cake is out of my way as I don't have stamina to beat the liquids till they emulsified.
I used juice blender, 3 whisks and the liquids were emulsified!!yippie...so smart ;) I know I am patting my back :P
Method :
Prep-work :
Grease the cake tin, cut a appropriate size butter paper and line inside. sprinkle dry flour over the butter paper. Keep this ready
Oven Temparature : 170 degree centigrade, for 40 mins. You should pre-heat the oven so set the timer for 10 mins more. Cake batter preparation will take 10-12 mins if you have all the ingredients weighed and ready!
1. Sieve all dry ingredients together.
2.Blend oil and yogurt in a blender I pulsed it 3 times to aid the mixing of liquids. Yogurt and oil does not blend well as milk and oil but don't worry as long as you have blended them mechanically. Add vanilla essence to this mix and transfer all the liquids to a convinient vessel
3.Now add dry ingredients to wet ingredients. Start mixing in one direction only. You need extra liquid to make into a smooth cake batter.
4.Take 1 cup of milk in the same blender in which you blended oil and yogurt. Blend milk, pulse it 3 times.
5.Add milk to the thick cake mix and mix and make the batter smooth. The ready batter is of dosa batter consistency.
6.If you need more milk you can add.Mix the batter in one direction for about 2-4 mins. Do not make the batter runny, it will result in a moist cake. Tastes more like tambittu LOL.....
7. Transfer the batter to greased cake tin and bake it in a pre-heated oven at 170 degree centigrade for 40 mins till the knife inserted comes out clean. You can bake for additional 10-15 mins if required.
The result is............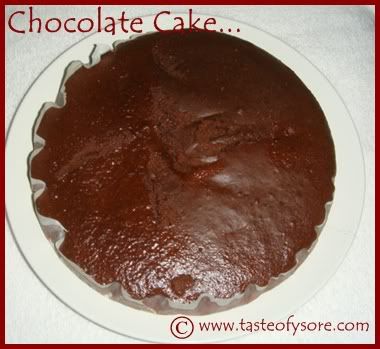 What you need to keep in mind?
Oven temparatures differ from each other. Get to know your oven. It takes some time.
You may fail at the first time, but you will definetly succeed one day like me. Practise makes man perfect you see :D
AWARD TIME
Since it is a chocolate cake, let me thank
Ramya
,
Rekha
and many more who showered me with this award. Thanks all for your love towards chocolate and me ;)
Lubna
of Kitchen Flavours has passed me several awards like "APerfect Blend of Friendship", "Butterfly Award", "I am a Chocoholic", "Good Job" and "Inspiration Award"
Many thanks to
Priya of Priya's Easy and Tasty Recipes
she has showered me with Hard working blogger award. We all work hard in Kitchen and before computer to make our posts wonderful.
Ujju of
Cuisine point
has also showered me with Chocoholic award, thanks Ujju and please chocolate cake tagolli :)
Uma of
Essence of Andhra
has passed me "Great Buddy Award", "A perfect Blend of Friendship", "Hard Working Blogger", and "360 degree blogger award" Thanks a ton Uma. You are a great buddy and we blend perfectly, work hard and do 360 days of blogging :)
Smitha of
Kannada Cuisine
has fondly sent my way "Great Buddy Award", "A perfect Blend of Friendship",
"Inspiration Award" and "Kreativ Blogger" award. Dhanyavadagalu Smitha, please neevu ondu piece cake tagollipa.. She has also tagged me for 7 things MEME and here it goes :
Time for MEME
7 Things I Say More Often
1. umm..aamele (as though I am listening to a story)
2. Oddare (when I get irritated..which means "if I kick..")
3. hii..
4. riiii (that's how I call my hubby)
5. ayyo rama ..(an exclamation ? with the name of lord Rama)
6. Akash!!!!!
7. Feel like munching
7 things I did before
1. Experimented in my kitchen
2. Graduated with a degree in Pharmacology
3. Enjoyed with friends in the hostel
4. Had a lovely time with my ex-boyfriend who got promoted and became husband
5. I had lovely time enjoying the childhood of my son
6. Enjoyed Vacations in different parts of India
7. Gave Birth to my son (could not think of anything else! LOL)
7things I do now:
1. Cook well the kitchen, atleast 80% of the time
2. Teach Akash
3. Take a bus to reach office
4. Multitask in office and home
5. Blogging :) yippee..
6. Baking experiments, how can I forget it?
7. Socialising ....
7 things I want to do ( not sure whether I can write 7! let me see)
1. Have a cup of coffee and eat something
2. Eat Idli and sambar for lunch
3. Cook Dinner
4. Teach Akash as he has English test tomorrow
5. Pack my bags for vacation
6. Shopping
7.Blog and read your lovley coments
7 things that attract me about opposite sex
1. Patience
2. Matured Thinking
3. Financial Prudence
4. Sense of Humor
5. Common Sense
6. Communication Skills
7. Decency
8. Cooking Skills
9. ......this list grows :P
7 Favorite Foods (I wish I had endless list)
1. Cake,Cookies
2. Payasa,Holige
3. Anna, saaru, palya and mosaru
4. All street snacks from ambode, vade, bonda, masal puri, paanipuri, Mandakki churumuri, tomato masale, hesarubele masale, ...ohhh..the list grows
5. Chintamani Hurgalu, peanuts
6. Fried Avarekaalu
7. Avalakki
8. Ottu Shavige
9. Oh gosh it is already 9 and I still have many more :P
I would love to pass all the Awards to
Smitha of Kannada Cuisine,
Sushma of SaviRuchi
Vani of Mysorean
Ramya of Ramya's Kitchen Corner
Ramya of Mane Adige
Rekha of Plantain Leaf
Sowmya of Creative Saga
Priti of Indian Khana
Sukanya of Sukanya's Musings
Indrani of Appyayan
Vanisri of Illatharasi
Cham of Spice Club
Uma of Essence of Andhra
Uma of Uma's Soap Box
Pragyan of Sorisha
Priyanka of Asan Khana
Divya and Chitra Amma of Chitra Amma's Kitchen
Sireesha of Mom's Recipes
Ujju of Cuisine Point
Divya Vikram of Dil Se
Deesha of Vegetable Platter
Veda of Iyengar's Kitchen
Happy Cook of My Kitchen Treasures
Rajeshwari of RAKS Kitchen
Sukanya Ramkumar of Hot N Sweet Bowl
Prajusha of I Cook I Post
RC of Red Chillies
Madhu of Ruchi
will add few more, cannot think now...need a caffiene boost now :) Enjoy your awards!