Thove/Tovve was often made by mom for chapathi and it served two in one purpose. It not only tasted well with chapathis but also made an apt accompaniment for rice also. Tovve can be made with or without vegetables, however if you have only tomato and onions you still can make yummy tovves. Thovve/Tovve is an ultimate comfort food for most of us. There are different ways of making tovve, and I have listed few Tovve's from other bloggers who are from Karnataka. Here is how I did with Ridge Gourd :
Heerekayi Thove/Ridge Gourd with lentils
:
Ridge Gourd : 1 small (washed, peeled and chopped into 2" cubes)
Onions : 1 (deskinned and chopped )
Hesarubele/Moongdal : 1 cup
Turmeric : 1 pinch
Pressure cook all the above(4 whistles in a pressure cooker)
Once the pressure comes down, remove the vessel and mix the contents with the back of a spoon.
To finish off making you need :
Tamarind Juice : 2tbsp
Saarina Pudi
: 1/2 tbsp (adjust according to your spice levels)
salt
grated fresh/wet coconut : 1 tbsp
chopped coriander leaves : 1tbsp
Tempering
: Oil, mustard, curryleaves and red chillies
Do the tampering in vessel you wish to make tovve. Heat oil and add mustard. Once mustard stops crackling add red chillies and curry leaves. Mix and add tamarind juice, saarina pudi, salt and coconut.
Pour in pressure cooked dal mixture and mix well. If you have a mechanical hand mixer, mix the contents and make it into coarse paste. Heerekayi should still retain its shape wile dal gets mashed.
Brin it to boil and check for correctness. Adjust the flavors, garnish with coriander leaves and serve hot with rice.
I made tovve using tamarind and saarina pudi mainly because my main course was rice, if you want to have it with chapathis, I would prefer making in Ruchi's way .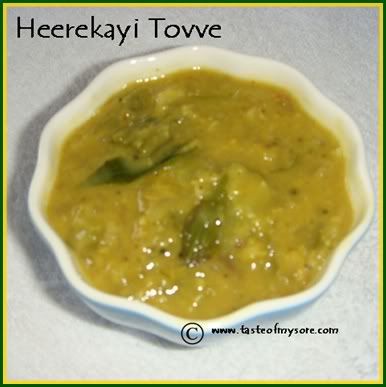 Few Tovves from fellow K bloggers : Moongdal Tovve
from
Ruchi
Hesarubele Tovve
from
Grihini
HuliTovve
from
It'slife
Avarekaalu
Tovve from
It'sLife
Nuggesoppu
Tovve from
Savi-Ruchi
Thove
from
Mane Adige
Heerekayi Thovve
from
Nalapaka