When I saw them at
Rasagavala
I had decided to make them. The combination of Jackfruit and Banana was interesting and it turned out exactly the way I imagined it to be. Thanks Alamelu for sharing your recipe. I went upon making some flowers from Jackfruit and it reminded me of a melodious Kannada duet..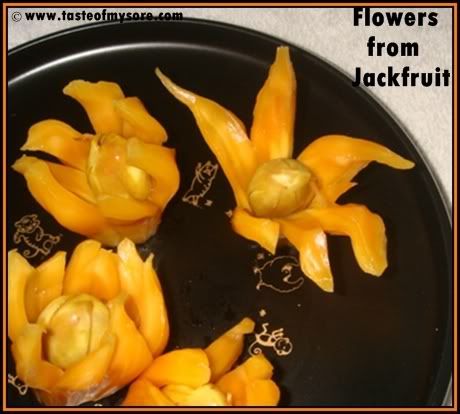 Dundu mallige maatadeya..kenda sampige neenadeya
kenne kempagagi santosha tumbi hogi naachi neenu moggadeya .......
I don't remeber the movie name but those flowers just reminded me of sampige hoovu (not sure what they are called in English)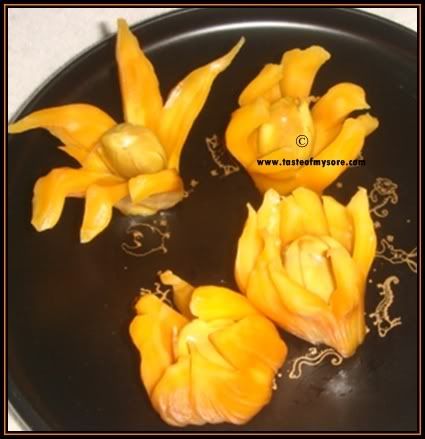 We get fresh jackfruit through out the year in Singapore. I used fresh jackfruit and ripe bananas for making halwa. Both the fruits were very sweet so I added only 3 tbsp or less sugar to make halwa. I like my sweet dishes with less sweet. You can visit
Rasagavala
to take a look at the recipe.A simple and tasty recipe to have in your recipe book if you are a jackfruit lover!
It looked like this when I made them in my kitchen...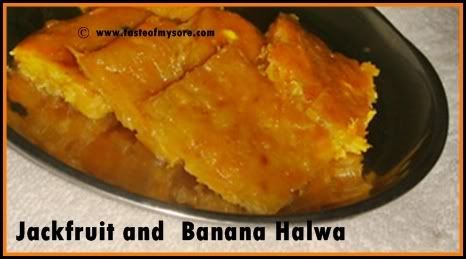 Jackfruit : 1/2 kg (very sweet), chopped into fine pieces
Banana : 3 (very sweet), mashed
Ghee: 1 tbsp
Sugar 3 tbsp (add more sugar if fruits are bland)
Coat the pan with a tsp of ghee. heat the pan and add jackfruit pieces. sautee till they are little mushy and nice aroma wafts the air. Add mashed banana and continue to sautee on low flame till both fruits are mixed and banana gets cooked. Add sugar and rest of the ghee and let the mixture thicken. Grease a plate and transfer the halwa to the plate. Spred it on the plate into a thin/thick layer. Let it cool down. Enjoii..
Optional: Put inside the refrigerator for 3-4 hours before you cut them into squares.
Easy right? ...
I am sending these flowers and halwa to
Kitchen Masterpiece Event
at Chitra Amma's Kitchen and
Create With Luv for Luv
event at Asan Khana. The reason is simple, my hubby,myself and Akash all are crazy fans of these two fruits. I created them with love for all of us!
Not to forget AFAM-Jackfruit....this is for that event also. Last date to send in your entries for AFAM-Jackfruit is 3 March 09