I found them very unique among idli varieties. I was eager to make when my sis passed down the recipe to me but also a bit scared about the reaction it was going to get from my hubby as I made it for morning breakfast on a working day. Working day mornings are not a good choice for 'first time try' things. It was given a warm welcome to our morning breakfast menu.
You need the following to make Sago Idlis..
Sago : 1 cup (1cup holds 100ml water) (see the instructions below)
Rawa/Semolina/cream of wheat : 1cup (1cup holds 100ml water)
Green chilli paste : 1tsp
Coriander: 1 tbsp (chopped finely)
Salt (catuion! this preparation requires less salt for some reason, be careful while using it)
2.5 cups of sour curds (1cup holds 100ml water)
Oggarane/Tempering/sesaoning/ : oil, mustard,curry leaves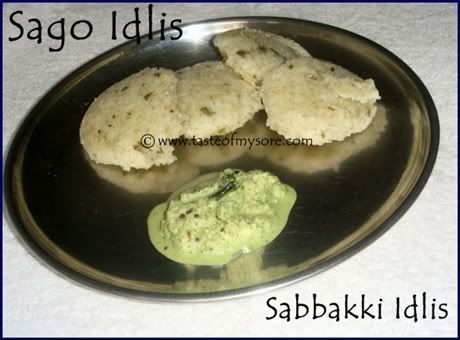 Optional (You can make step 1-4 previous day and keep the mixture ready)
1.Roast
sago/sabbakki/sabudana
on tava for 2-3 mins. Let it cool. Powder it to form a coarse powder.
2.Heat a tsp of oil in a wide pan. Pop mustard seeds, add curry leaves and stir. Reduce the heat and follow next step instructions.
3.Add in green chilli paste, coriander, salt and semolina. Stir to mix the ingredients, add sago powder and mix further. When the mixture is warm switch of the stove and transfer the contents to a clean vessel.
4.Let the mixture come to room temparature.
5.Add 2.5 cups of sour curds to it and mix. The batter is
not of the consistency
of normal idli batter.
6.The batter is little thicker than the normal idli batter.
7.Grease idli moulds and laddle the sago idli mix to the moulds.
8.Steam the sago idli for
20 mins.
9.Serve/Eat hot with chutney. They do not taste good if kept for a long time.
Verdict
- Idlis are soft, chewy and tasty