Shivaratri is just around the corner....Since it comes on a Monday this year I think many devotees of Shiva will think of fasting on that day. Some fast without even drinking water, some eat fruits, so accross India we have people who observe fasting in different ways. May lord Shiva bless you all with his choicest blessings and don't forget to offer few bilvapatre (leaves of
Aegle marmelos
) to him :). You can read
Bilvashtaka
on TasteofMysore too. You can also read the recipe of
maldi unde/wheat flour laddu
which is offered to lord Shiva.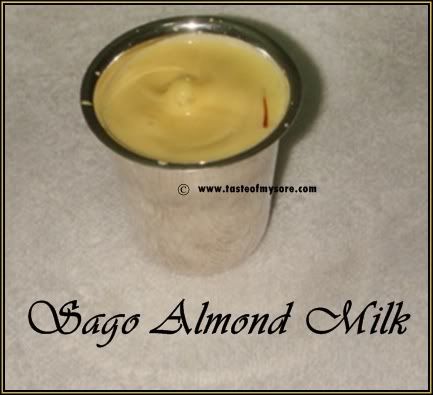 Sago Almond Milk is a delicious drink. It is easy to prepare and tasty to drink.Sago is rich in carbohydrates. Most of them eat sago on fasting days and almonds and sago gives you that lost energy ;). Sago is believed to reduce body heat and hence this drink also helps in cooling down the body.
To me it has always helped me to reduce my hunger pangs and keeps me away from having coffee ! A teaspoon of this powder in 1 cup of hot milk/milk powder +hot water and you are ready with a delicious drink yippeee....try it to know it..now this is my own creation so I am a bit proud of it also :D Please don't confuse it with kheer........
Edited to add : More about Sago/Sabbakki/Sabudana

What is Sago
?
Tapioca starch processed in the form of pearl is sago. You can see white pearls in the last pic here.
reference : http://en.wikipedia.org/wiki/Tapioca
Regional Names of Sago (sago is in English :D)
:
Kannada - Sabbakki
Telugu- Karapendalam,Sabbemu,
Malayalam-kappa (കപ്പ) or kolly or maracheeni
Tamil -
Cassava/tapioca root is called Maravallikezangu
Hindi-Sabudana
Why is sago used/sago dishes made during festive time fasting? (my understanding......)
Sago is processed from a root and usually people who fast do not eat grains or things made from grains like rice, wheat/chapati, dal etc. A wonderful supplement/replacement (?) of carbohydrates.
You need the following to make the powder :
Sago/Sabbakki/Sabudana : 1 cup (1 cup holds 100ml of water)
Almonds/Badami : 8 (toasted/roasted)
Rock Sugar/Kallusakkare : 1/2 cup
Saffron Starnds : 5
Orange Food Color : 1/2 tsp (any food color of your choice)
Heat a thcik bottomed pan and fry sago for 3-4 mins. Next almonds goes into pan. Roast them till they are crisp.Let sago and almonds cool down.
Break down rock sugar in your pestle and mortar.
Take sago, almonds, rock sugar pieces, food color in your mixer grinder/blender and grind it to get powder. Add saffron strands and store in a air tight container.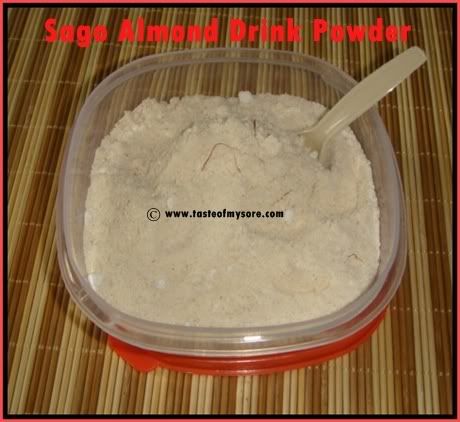 How to make:
Sago Almond Drink Powder : 1 tbsp
Milk : 200 ml (Hot Milk)
Mix both of them and let it stand for
2 minutes
. You are ready to enjoy your drink. STIR BEFORE YOU DRINK. Sago tends to settle down after absorbing moisture :)
Alternatively you can add milk powder and hot water and mix. I make it this way in office. You can drink it in place of coffee..That is my cup with Sago Almond Milk